Whether you're celebrating Christmas, the holiday season, or just the end of 2020 – it's just around the corner. Make this festive season your most sustainable yet, with these five ways to have a more eco-friendly Christmas.
Whether you celebrate Christmas or not, the December holiday period is the most indulgent time of year – with travel, shopping and eating reaching their annual peak. 
And during this time, most people are willing to forgo their eco-conscious ways in place of the perfect Christmas celebration – putting pressure on our already struggling planet. 
But what if you didn't need to ditch your usual conscious-living attitude to make this Christmas a merry one?
Whether you try out one or all of these eco-friendly Christmas hacks, you'll be making a contribution towards reducing the festive season strain with these tips to have a more eco-friendly Christmas.
1) Rent a Christmas tree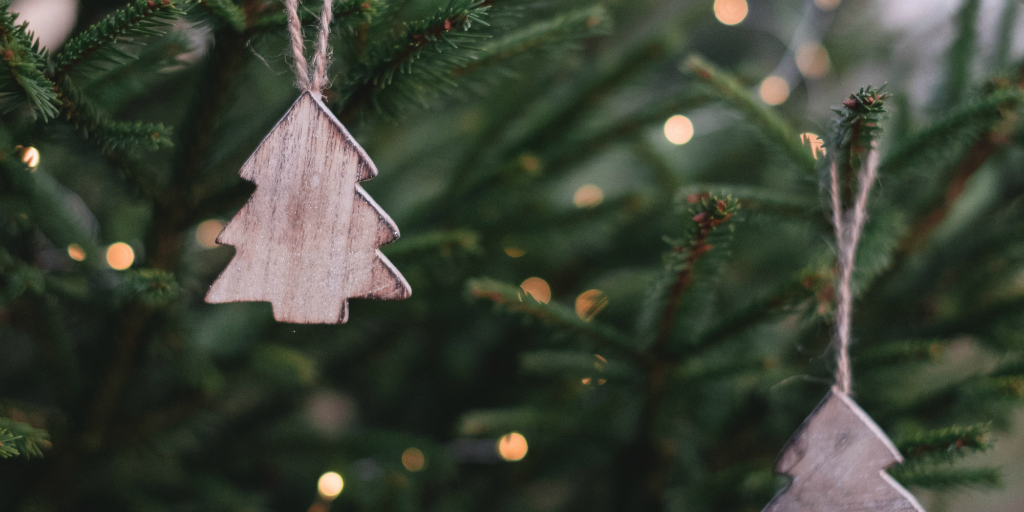 Original image: Minimal Christmas tree decoration by freestocks.org is licensed under CC BY-SA 2.0
In the battle of the most eco-friendly Christmas tree, many may argue that faux is the way to go. But if you're smart about where you get your real tree from, and what you do with it after the festive season has drawn to a close, then real could take the (Christmas) cake in this sustainability race.
According to Carbon Trust, when a two-metre Christmas tree is cut down and ends up in a landfill, it can have a carbon footprint of up to 16 kilograms. This is because the tree decomposes and produces methane gas, which is 25 times more potent than carbon dioxide.
And, with more than seven million Christmas trees in the UK ending up in rubbish dumps after the festive season – it's easy to see why some people may argue that fake Christmas trees are the more sustainable option.
But what if there was an alternative to cutting the tree from its roots?

Well, if you rent a Christmas tree, there is!

How does it work?
Much like an indoor plant, a rented Christmas tree will still have its roots attached and be potted in the correct soil to keep it alive in your home. 
A quick google search should be able to help you locate the nearest nursery or garden centre that offers this service. 
Now all that's left for you to do is choose your tree, borrow it for the festive season, and return it once Christmas is over. It's the perfect eco-friendly Christmas tree alternative. Some companies may even offer delivery and collection services to save you the hassle. 
Once returned, the company you borrow your tree from will re-plant it until the next year's festive season.
2) Send e-cards to your loved ones
One of the easiest ways to have a more eco-friendly Christmas is to ditch the traditional Christmas cards and opt for an e-card instead.
Not only will this save you money and the fuss of having to get your cards to the post office on time (and hope they arrive at the desired location before Christmas), but with an estimated 1.5 billion Christmas cards thrown away by households in the UK each year, you'll be doing the environment a big favour.
If you'd still prefer to keep it traditional and send physical Christmas cards, keep it as eco-friendly as possible, using paper-only cards that can be recycled and try to hand-deliver the Christmas cheer where possible.
3) DIY your own advent calendars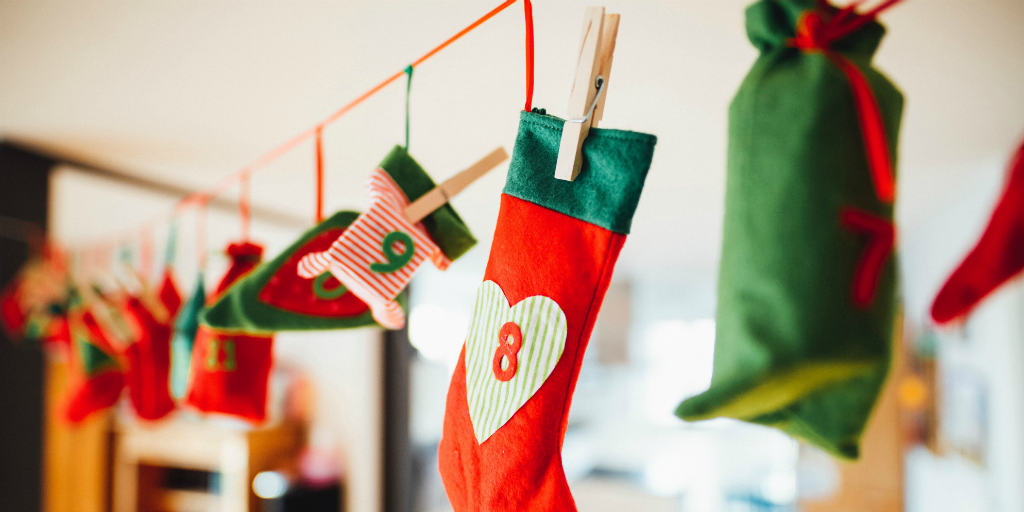 Original image: red and white stocking by  Markus Spiske is licensed under CC BY-SA 2.0
There's nothing better than opening your eyes on the first day of December, knowing that a Christmas surprise is waiting for you in your advent calendar.
So why not invest in a reusable advent calendar? 
That way you can get personal and put together a DIY advent calendar filled with chocolate truffles and Christmas treats that you know your family will love. 
You could even fill your advent calendar with practical eco-friendly Christmas presents like a glass straw or bamboo toothbrush.
4) Give more sustainable Christmas gifts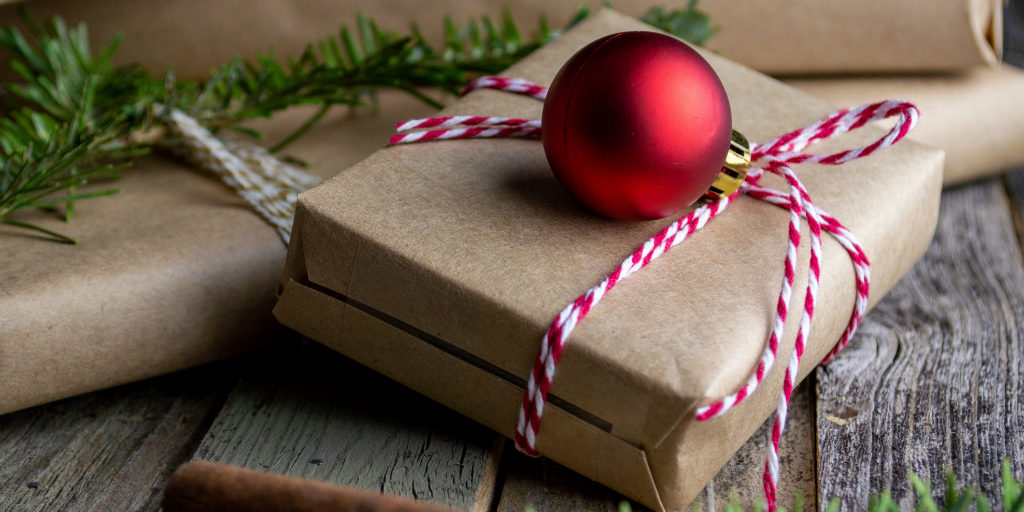 Original image: Red baulble on brown giftbox by Mel Poole is licensed under CC BY-SA 2.0
Spoil your loved ones (and the environment) this year by shopping for more eco-friendly Christmas presents. 
This act of conscious shopping doesn't have to be overly complex or stressful, and can be something as simple as shopping at a local gift-store rather than supporting less sustainable mass consumerism outlets.
When shopping for more sustainable Christmas gifts, always consider whether there might be a no-plastic, or lower-plastic, alternative to the stocking stuffer you had in mind. Or why not give a toy, or item of clothing a "second life" by shopping at second-hand thrift stores.
Great eco-friendly Christmas presents could even be experiences rather than tangible gifts. Give your best friend the gift of travel by contributing to their fundraiser to join a volunteer abroad experience with GVI in their bucket-list destination. 
Further reading: The best Christmas volunteering ideas
Or spread the kindness and festive cheer by making a donation to an organisation close to your mother's heart.
Further reading: Ten incredible gifts that give back this Christmas
Show your grandparents how much you care by giving a handmade, sustainable Christmas gift this year. Get creative and spread the love with gifts like jars of indulgent choc-chip cookies, hand-sewn sweaters, and everything in between.
And don't forget to keep it eco-friendly with your wrapping paper, too. Non-eco-friendly Christmas wrapping paper is a huge contributor to the volume of waste that we see during the festive season each year. 
Wrapping materials like sticky tape, ribbons, pom-poms and paper covered in glitter can't be recycled, so try opting for a more eco-friendly brown paper wrapping instead. 
And this brown paper wrapping can be sustainable and stylish. Level up your wrapping with twine, material ribbons made from old Christmas sweaters, and even small pieces of fresh foliage to make this the perfect sustainable Christmas gift.
5) Plan a zero-waste, sustainable Christmas feast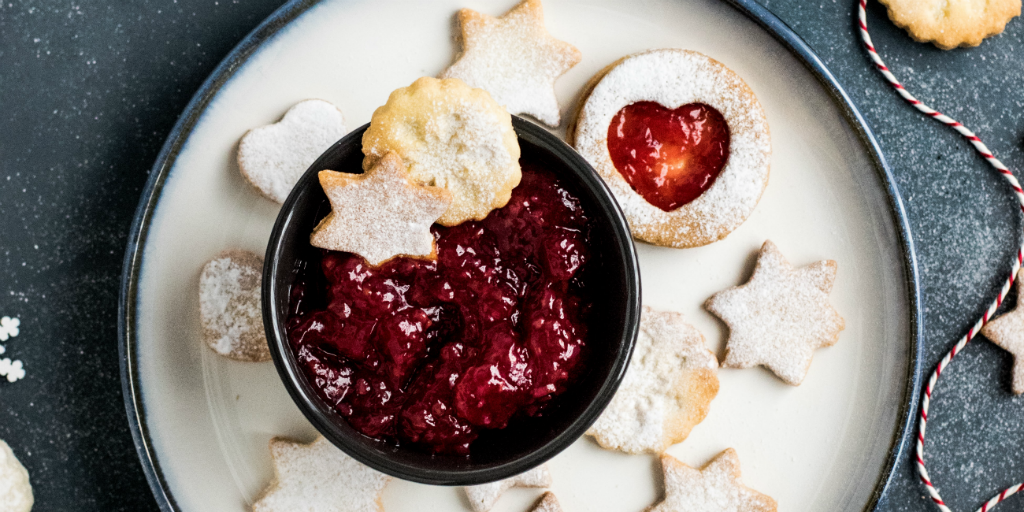 Original image: strawberry jam with star biscuits by Monika Grabkowska is licensed under CC BY-SA 2.0
This year more than ever, we know it's important to spend quality time (safely) with your family and loved ones over the festive period. And these occasions often involve gathering around a table to enjoy a feast of good food and drinks. 
But with this, often comes a lot of unnecessary food waste. We all (understandably) go a bit overboard during Christmastime, purchasing and cooking far more than we actually need. 
In the UK alone, five million Christmas puddings, two million turkeys, and 74 million mince pies go to waste each year. And this has an impact on the planet. 
So if you're hosting the Christmas feast this year – plan ahead! Write down who is attending and try to only make what you know your guests will eat. 
And if there are any leftovers that you aren't planning to enjoy in the days following the festive feast, why not share with your neighbours or friends?
And of course, a Christmas table isn't complete without a Christmas cracker. But if you're consciously trying to plan a more sustainable celebration, it's probably worth your while to DIY your own eco-friendly Christmas crackers that can be recycled. 
Whether you consider yourself a seasoned environmentalist, or are new to the world of eco-friendly living – these five ways to have a more eco-friendly Christmas make it easy to switch to sustainable.