Original photo: "Yaks Dingboche – Lobuche Nepal january 2015"by Stefanos Nikologianis is licensed under CC BY 2.0
Nepal has gained the moniker "Amazon of Asia" due to the biodiversity of flora and fauna that inhabit its lands – from tropical Terai jungle to its snow-capped alpine climate. Yet, fifty years ago, hunting threatened to push some of its species to extinction.
Despite occupying just 0.1% of the world's land mass, Nepal wildlife includes the greater one-horned rhinoceros, Bengal tiger, red panda, blue sheep, snow leopard, Himalayan tahr and the country's national bird, the danphe (or Himalayan monal).
In recent years, Nepal has been recognised internationally for its conservation efforts, especially for its fight against the illegal wildlife trade of vulnerable greater one-horned rhinos, red pandas and endangered Bengal tigers.  
By protecting its unique vegetation, working alongside local communities to help with forestry management, and forming wildlife corridors, Nepal has managed to recover its wildlife population sizes to record numbers. Moreover, Nepal has managed this impressive feat in the face of a growing wildlife trafficking trade in Asia.
Here are five facts about wildlife and conservation that have helped establish Nepal as a global leader in conservation.
1) Nepal wildlife can roam across ten national parks
Nepal has declared 20% of its land as protected areas, demonstrating the importance of wildlife to the country. By comparison, Nepal's neighbor India has dedicated 5% to wildlife reserves and national parks.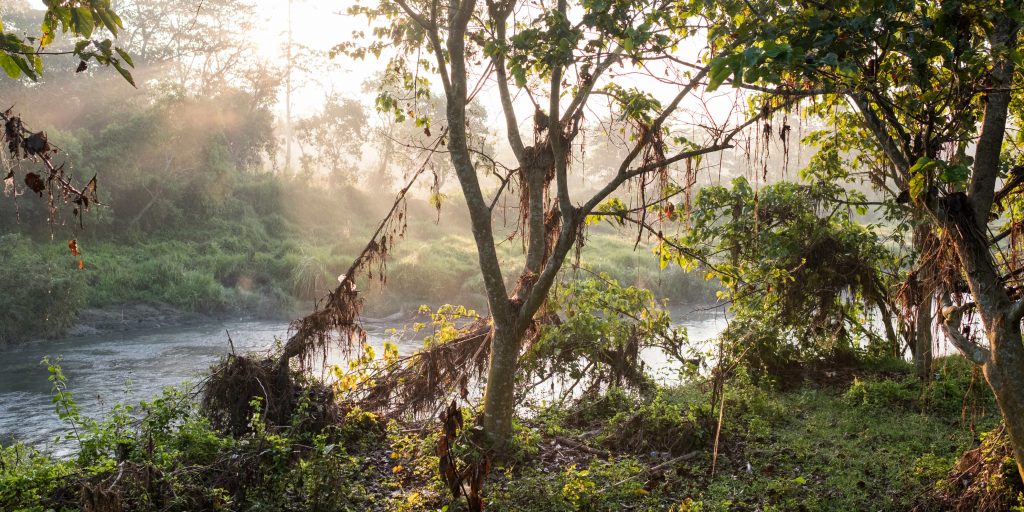 Nepal boasts 12 national parks, one wildlife reserve, six conservation areas, and one hunting reserve. Two of the national parks, Chitwan National Park and Sagarmatha National Park, are United Nations Educational, Scientific and Cultural Organisation (UNESCO) World Heritage Sites.
Nepal's National Park and Wildlife Conservation Act was established in 1973, which means that conservation efforts began almost fifty years ago. Today, the Nepal government works alongside international NGOs such as the World Wide Fund for Nature (WWF) and local communities to deliver sustainable conservation targets.
Nepal has achieved a number of consecutive "zero poaching" years in its national parks, despite the growing demand for illegal wildlife trade. The country is regarded as a world leader in conservation of endangered species, and even hosted the world's first anti-poaching summit, Towards Zero Poaching, in 2015.
2) Nepal is set to double its number of Bengal tigers
Nepal's wildlife conservation efforts have allowed the endangered Bengal tiger to bounce back from the brink of extinction. This is in defiance of the poaching threat that has affected tiger populations worldwide. Scientists estimate that there are now 235 tigers in the wild in Nepal, whereas in 2009 there were just 120.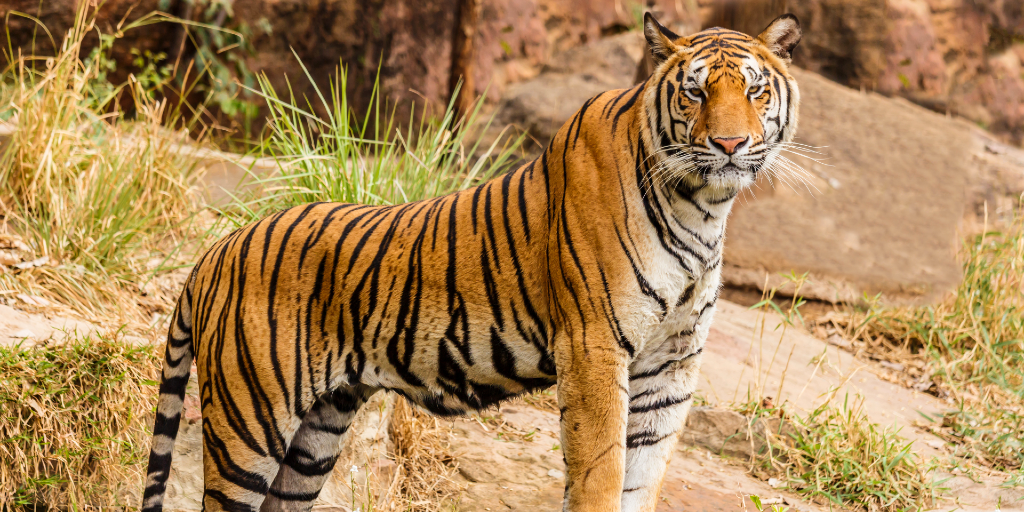 Original photo: "An Indian tiger in the wild. Royal, Bengal tiger" by derrickbrutel is licensed under CC BY-SA 2.0
The rapid recovery of this species is largely thanks to the deployment of anti-poaching rangers, as well as reductions in human-wildlife conflict through building buffer zones around national parks.
Nepal, despite being one of the smaller nations in the Global Tiger Initiative, is set to meet its 2022 target of doubling its tiger population. This is significant, as research shows that growing urbanisation and deforestation has meant that 93% of tiger ranges have been lost in recent years. But Nepal wildlife continues to defy this trend.
In Chitwan National Park alone, there were just 40 breeding adult tigers in the wild in the 1980s, a number which had grown to 125 by 2010.
3) Introducing wildlife corridors has reduced human–wildlife conflict
Habitat loss and land fragmentation contributes to the decline of biodiversity and vegetation, so a sensible landscaping solution comes in the form of wildlife corridors.
Wildlife corridors are habitats that connect patches of land to facilitate the safe passage of species between protected areas. This applies to both flora and fauna, through dispersal or migration. The idea is that by allowing free movement of Nepal wildlife, the incidents of human–wildlife conflict are reduced.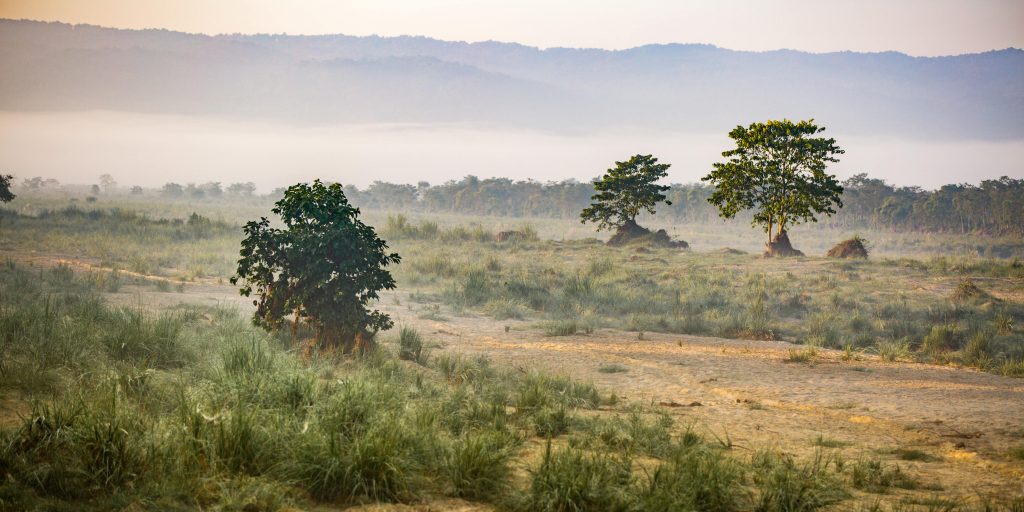 The Terai Arc Landscape (TAL) program is a pioneering project that was established in 2001, and is a collaboration between the Nepalese government and WWF. The wildlife corridors connect 14 protected areas between India and Nepal.
The TAL project has been hailed a success story for its flagship species, the greater one-horned rhinoceros, through its exemplary use of community forestry. Local communities worked in partnership with the government or NGOs to establish sustainable ways to maintain vegetation and harvest forest crops. In return, they received the ecological and socioeconomic benefits from protecting their natural resources.
The national parks are not large enough to sustain the rare species of wild Bengal tigers and endangered Asian elephants in isolation. But, by linking these areas with wildlife corridors, the space created is sufficient for these populations to thrive.
These wildlife corridors are especially important for keystone species, like endangered Indian elephants that rely on nomadic feeding for 19 hours a day. Their role in spreading germinating seeds is vital for vegetation to survive, and this impacts the whole ecosystem.
4) Nepal achieved "zero poaching" of rhinos in the face of the illegal wildlife trade
The illegal wildlife trade of animal body parts, which threatens existing population numbers, is intensifying. And wildlife trafficking is a big business.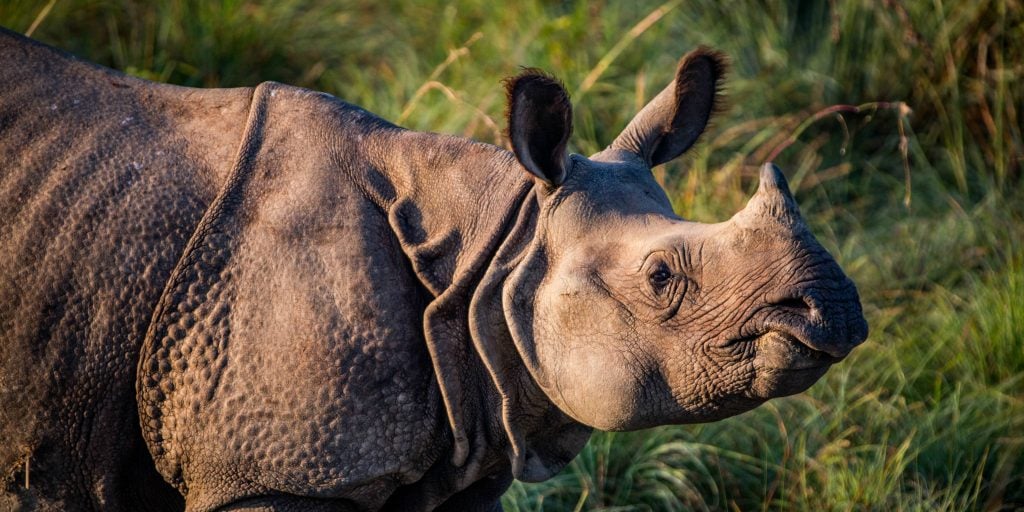 The black market in Asia has an ever-increasing demand for rhino horns, which are used in some traditional Chinese medicines, or displayed to symbolise status. Other rhino ranges and territories in southern Africa have seen a dramatic rise in poaching in the past decade.
Yet, Nepal has managed six consecutive years of zero poaching, which helped to safeguard the greater one-horned rhinoceros and allowed the species to bounce back from near extinction. By the end of the twentieth century, it's estimated that only 200 of these animals remained. Now, there are more than 645 rhinos living in Nepal, making this the second-largest population living in a country after India.
5) A community approach helped to protect Nepal wildlife
When coordinated conservation efforts to protect endangered Nepal wildlife first began in the 1970s, the focus was mainly on protecting the megafauna like tigers and rhinos.
However, the rising numbers of these animals in subsequent years inevitably resulted in a rise in human–wildlife conflict, where crops were destroyed, livestock was killed, or people were injured. The tension between the local communities and wildlife threatened the ongoing success of the projects and the viability of wildlife tourism.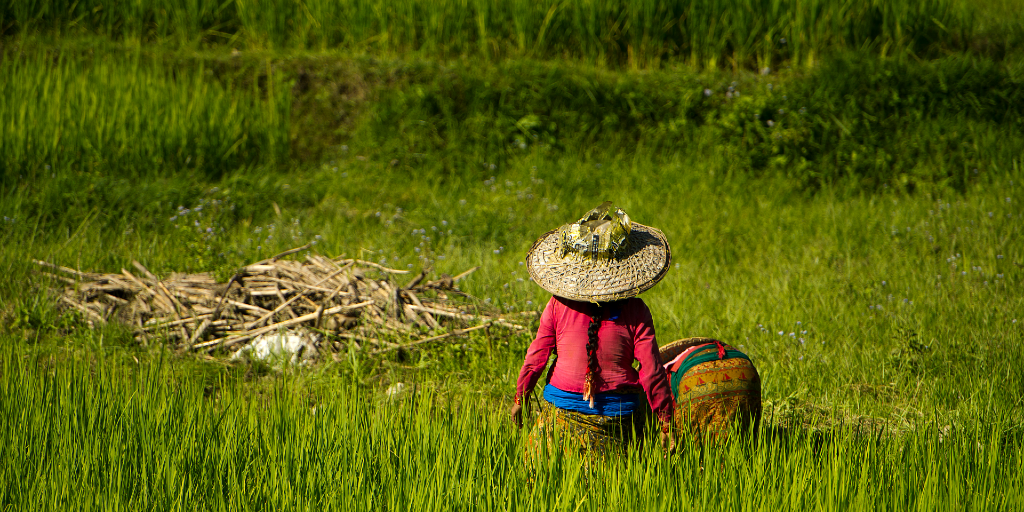 Original photo: "120907-F-CP197-932" by Pacific Air Forces is licensed under CC BY 2.0
Buffer zones were created around the national parks and wildlife reserves in 1996 to allow human settlement to continue adjacent to wildlife. The local communities began to plant mentha (mint), which proved to be a more lucrative crop than maize and wheat, and was also a natural deterrent for any roaming wildlife, such as rhinos.
Local people took ownership of the buffer zones while becoming stewards and protectors of the wildlife and natural resources nearby. One of Nepal's six conservation areas is wholly run by the local community.
Nepal has demonstrated that sustainable development is possible with limited resources. Despite its diminutive size, the country is a powerhouse in its conservation efforts to maintain Nepal wildlife. And it's an example of the long-term benefits of sustainable development projects, run in collaboration with local communities.
If you want to visit Nepal and make an impact through teaching or women's empowerment projects, you could join our volunteering programs.
Check out our in-country volunteer programs and internships in Nepal focused on wildlife conservation and community development and add to the well-being of Nepal wildlife.