Spend your high school holiday doing something worth talking about when school starts again. Start by picking one of our favourite volunteer programs for high school students.
Volunteering during high school is one of the best decisions you can make. GVI's teen volunteer programs combine hands-on volunteering with time spent visiting the surrounding areas, while making friends with fellow teen participants from around the world.
Besides the valuable work done on teen volunteer programs, there's also the chance to learn about different cultures and languages, learn new skills, and take part in supervised adventure activities.
There are programs to suit everybody's interests, in locations across the world.
Here are GVI 's top five picks for the best volunteer abroad programs for high school students.

Collecting data about local animals and sharing knowledge about wildlife protection are both key parts of the rainforest conservation program in Costa Rica.
This program makes the list because of the sheer diversity of wildlife that GVI's teen volunteers are exposed to. If studying all types of animals, from the sea turtle to the jaguar, is something that excites you, then this is the right program for you.
Living in the heart of the jungle in Costa Rica's Tortuguero National Park on the Caribbean coast, teen volunteers on this program can learn how researchers are protecting jaguars and other important species.
Studying Spanish in high school? Then a teen volunteer program in Costa Rica is the ideal way to spend your holiday. 
On top of an incredibly rewarding volunteer experience, you'll also have the chance to put your Spanish language skills to the test when engaging with members of the local community. 
With your improved language skills,  there'll be no need to worry about forgetting your Spanish knowledge during the holidays.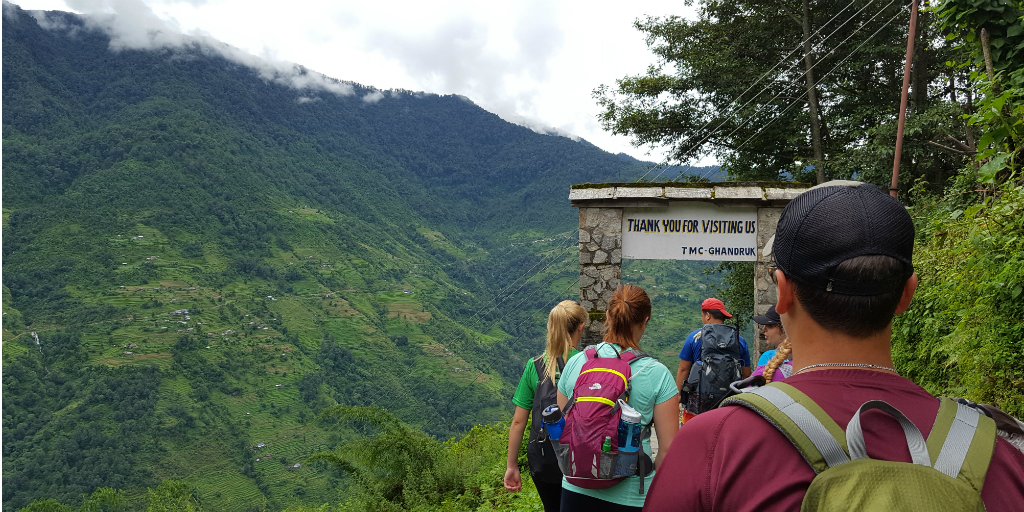 The city of Pokhara is situated in Nepal and is the gateway to the well-known Himalaya mountain range. And GVI happens to have a volunteer base right in this location.
During this program you'll assist with community-led projects aimed at building on the health and safety standards of educational facilities in Pokhara, contributing to the United Nations Sustainable Development Goal 4: Quality Education and Goal 3, Health and Wellbeing.
On your trip, you may also get to visit Samrakshak Samuha Nepal (SASANE), an organisation that works with survivors of human trafficking. 
You'll have the chance to attend a cooking class with women from the organisation and learn how to make a traditional Nepali dumpling called a "momo". 
Nepal has many Hindu temples and Buddhist monasteries that you'll also get to visit – giving you the opportunity to learn about Nepali culture first-hand.
And finally, you'll get to trek the Himalayas with your fellow volunteers and program leaders. On this adventure you'll stop off and sleep overnight at the Nepali tea houses situated along the trail. This is another chance to learn more about Nepali culture.
Volunteering in Thailand offers lots of variety. The volunteer opportunities for teens at GVI's Phang Nga base gives under 18s the chance to take part in sea turtle conservation activities at a turtle nursery run by the Thai Royal Navy.
Adding to the health of Phang Nga's environment by clearing pollution is also an important part of this program. 
And once the volunteering work is done, GVI teen volunteers in Thailand get to trek through a tropical jungle and take part in chaperoned adventure activities like kayaking across a mangrove forest, or swimming in natural pools that are fed by waterfalls. 
Head to sunny Greece, where you'll live in the historic coastal town of Giannitsochori and contribute to the conservation of sea turtles.
Do you know anyone else who'll be able to say they spent their holiday helping to protect one of the most important loggerhead turtle nesting areas in Greece?
This teen volunteer program is ideal for anybody under 18 looking to make a positive impact while spending time in a beach setting.
During this program you'll assist on beach surveys, looking for turtle nests and contributing to efforts to protect them. You might even get to see some of the hatchlings taking their first journey into the sea. 
You'll also have the chance to visit some of Greece's historic sites, including a visit to Olympia, the site of the original Olympic games. On a trip to the nearby town of Kalamata you can take in the views from the castle, walk through the historic quarter and taste traditional Greek dishes at the central food market.
If you're interested in a career in conservation, then this teen volunteering opportunity is perfect for you. 
Calling all ocean lovers. Is a career in marine biology something you're curious about? Is learning to scuba-dive something you've always dreamt about doing? If so, this diving and marine conservation program in Mexico is the one for you. 
On this teen volunteer program you can earn your PADI Open Water diving qualification while exploring the Mesoamerican Barrier Reef System. Working alongside marine conservationists, you'll learn about their ongoing projects and how they conduct research on coral, sea turtles and fish. You'll also learn about the effects environmental issues like climate change and plastic pollution have on the ocean and its inhabitants. 
Volunteers can assist on Coral Watch, a program where divers monitor healthy coral and submit data which helps researchers keep track of the health of coral reefs. You could also contribute to sea turtle research through beach patrols and taking part in plastic pollution research. 
In your free time you and your fellow teen volunteers could explore the ruins at the ancient city of Coba. Or visit Chichen Itza, a huge Mayan city, where you can climb the pyramid of Kukulcan, a UNESCO world heritage site (and one of the new seven wonders of the world).  Swim or dive in one of the Yucatán Peninsula's famous cenotes – turquoise pools that are surrounded by limestone walls and lit from the sky above, or visit one of the eco-adventure parks in the area. 
Info for parents and guardians

Your parents might find the idea of sending their child to volunteer abroad a little daunting, but you can assure them it's one of the best opportunities they could provide.
The benefits of volunteering during high school are huge – from improving your independence to learning a new language, and deciding on a future career path. 
GVI strives to make sure every one of our under 18 volunteers comes out of their chosen program with enhanced knowledge, wisdom and a better understanding of themselves.
GVI's volunteer programs for under 18s are closely supervised by trained and vetted GVI staff,  ensuring that participants are safe and happy at all times. The programs follow a set schedule with a variety of chaperoned activities planned during the volunteering period and your free time.
This supervision ensures that teen volunteers get the most out of their time volunteering during high school, while remaining safe at all times.
For more information for parents or guardians of a teen thinking about volunteering abroad, take a look at our Parent Information Pack or contact our support staff.
Are you ready to have the time of your life volunteering abroad during high school? Check out our array of programs for high school students to find out more.
We understand that you may have questions about how COVID-19 will affect your travel plans. Visit our FAQs page which explains our latest safety protocols in response to COVID-19. 
Disclaimer: The images in this article were taken pre-COVID-19.