Saludos from Jalova!
We just wanted to tell you a little bit about the exciting 24hr survey we carried out from 7pm on the 27th of September till 7pm on the 28th of September. We organized this 24hr survey in order to raise funds to purchase solar panels for the Jalova base here in Tortuguero National Park. Our aim is to reduce our carbon footprint and make the base more self-sufficient.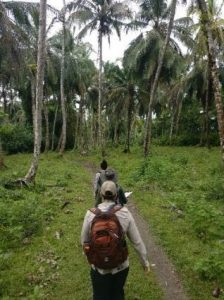 We created a Just Giving page to raise the funds and help make others aware of our efforts and the amazing work that is being carried out here. During this period, we created a schedule and organized groups of staff and volunteers to ensure surveys were being carried out round the clock during these 24hrs. The schedule included frogging, bird boat, night walk, nest checks, excavations, jag walk and numerous trails.
Incidentals were carried out in dense forest, coastal forest, canals and coconut plantations. The groups would walk a trail for roughly 24hrs and report any species which were observed. The groups on the bird boat would canoe through the serene canals of the park, also noting down any species which they came across.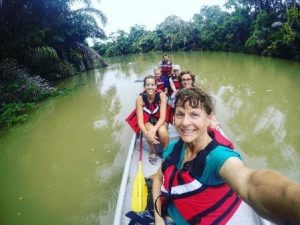 The nest checks and excavations carried out during the 24hr survey would set off at 5am, walk the beach, recording any fresh turtle tracks and turtle nests and also noting down any depressions in the sand around any exiting recorded nests.
Night walk would commence at roughly 8pm and then again at 00:30 when the first group returned. Here, groups would walk the length of the beach in search of nesting turtles. If possible, we would count the number of eggs laid and record the position of the nest, or otherwise record the turtles' measurements, check her for any abnormalities and tag her.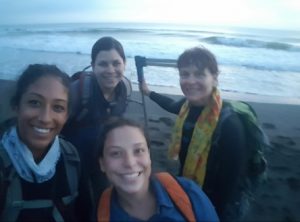 I, Selina, got to partake in the first night walk of the evening at 8pm. The night started off pretty quiet, but before I knew it I was working on my first ever egg count! We found some fresh turtle tracks leading up to the vegetation and we found her digging her body pit, getting ready to start laying her eggs. Watching her in silence as she dug her egg chamber felt unreal. It was incredible to see how she would use her flippers as if they were spades, to dig and scoop up the sand.
She laid 123 beautiful eggs! I could feel and hear her breath as she was contracting. I had to catch her eggs in one hand as she laid and she would almost always lay two to three eggs at one time, so keeping track of the count was vital. Her eggs felt harder than I originally imagined they would. Kind of like ping pong balls!
It was magical! We also triangulated the position of her nest simultaneously to ensure it can be located accurately in 60-65 days when the eggs should have hatched. It was like nothing I had ever experienced before. To date, genuinely one of the best feelings and moments I have ever had.
For those taking part in the jag walk, a group set out at 5am, walking 15 miles on the beach between the base and the closest village of Tortuguero, counting fresh jaguar tracks, fresh turtle tracks and marking dead turtles.
My name is Simon and I did the jag walk for the 24hrs survey day and I am going to take you readers through my experience of the jag walk. The morning started at 5am to walk the 15 miles on sand. It was a cloudy morning and perfect weather to work in. When you're doing the walk you have different things everyone is doing, like looking for jaguar tracks, counting turtle tracks up and down and half-moons, looking for dead turtles and marking them with a GPS.
At around 11am we stopped to eat lunch on the beach. Bread with peanut butter and jam was on the menu, it was really tasty!!! When we were about to leave, a couple of white-throated capuchins came to check us out. After lunch the weather had changed and the boiling sun was now shining down on us.
After 8 hours of walking the beach we had finally reached our destination at the nearest village of Tortuguero. A well-deserved Pizza was on the menu and a lot of relaxing.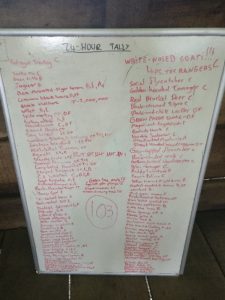 Over the course of the 24hr survey, we saw 103 different species! These included the infamous White-nosed Coati, the American Crocodile, the Central American Agouti, the Eyelash Palm Pit Viper and the Green Turtle!
All in all, the event was thoroughly enjoyed by all involved and was a huge success! For those still wishing to donate to this very worthy cause, please visit our Just Giving page at https://www.justgiving.com/fundraising/gvijalova24hsurvey 
A video of our endeavor will also soon be available via our facebook page: https://www.facebook.com/GVICostaRicaJalova/
Greetings!
Selina and Simon