For the first time since I arrived six weeks ago, volunteers were given the opportunity to help plant the dry rice fields, ready for the year of harvest ahead. Myself and a couple of other volunteers decided to give it a try as it's a good way to get involved and give back to a very community-based culture. Thankfully, this Monday morning was cool and overcast, to begin with a pleasant change from the blistering sun. After a short walk down through the village we arrived at my homestay house, where they had kindly accepted our offer to help them in the fields today. After another short walk further down the hill (hardly leaving the village), we arrived at one of the side fields on an open valley.
The village men began to smooth down long pieces of bamboo, in which they had attached a sort of miniature spade used to pick out mini troughs in the ground. The women filled their traditional Karen bags or homemade rice sack bags with a mixture of rice seeds and fertiliser compound. The men with the tools would start at the top of the steep valley side in a line and quickly pick at the ground with their tools in sharp bursts. The remaining people, men and women included, would throw a tiny pinch of seed mixture into each of the carved out troughs. Not an easy task with the light breeze; you have to really work on your aim if you didn't want to have to bend down too much.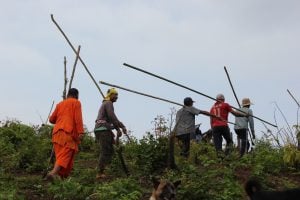 They initially let me attempt digging the holes, but after about ten seconds they decided that was a bad idea as I didn't quite have the level of technique required to keep up with the speed of the group (we would have been there all day!). Instead I politely exchanged my tool for a more fissionable handbag of rice seed instead. Thanks to the hard efforts of about 40 villagers, the whole field was completely planted by lunch time. After a few hours of back-breaking work (in my case anyway) we ate traditional food of fish cooked with potatoes and other spices off of bamboo leaves in one of the huts in the field to congratulate ourselves. A morning well spent interacting with my homestay and getting to chat to other villagers, as well as a good chance for me to practice my Pakinyaw skills (the local dialect).