A couple of days into the slightly hectic schedule of lesson planning, training and teaching that befalls a new volunteer in GVI Laos, our program manager, Leyla, came to our usual lesson planning meeting with an announcement. She had woken up in the middle of the night with a thought that throughout the totality of the Women's Empowerment Program the girls had never been told that they were a part of this incredible program, nor that they even knew what women's empowerment was.
And so the volunteers and staff began designing a program of workshops that were designed to do just this. I was excited, but also slightly apprehensive about the content, not really knowing if the girls would understand the concept or whether they would accept this different way of thinking. The first week of workshops, described women's empowerment and what it could mean to them and introduced some inspirational women who have changed society in different ways. I had no idea how they would be received but my worries quickly disappeared. There was a curiosity in the first workshop from the girls, and you could quickly see this changing to a realisation and genuine, rapt interest. When ever we'd pause to ask a question, the answer came back that they didn't have any and just wanted to learn more. I think we even managed to persuade some to study the sciences after speaking about Marie Curie!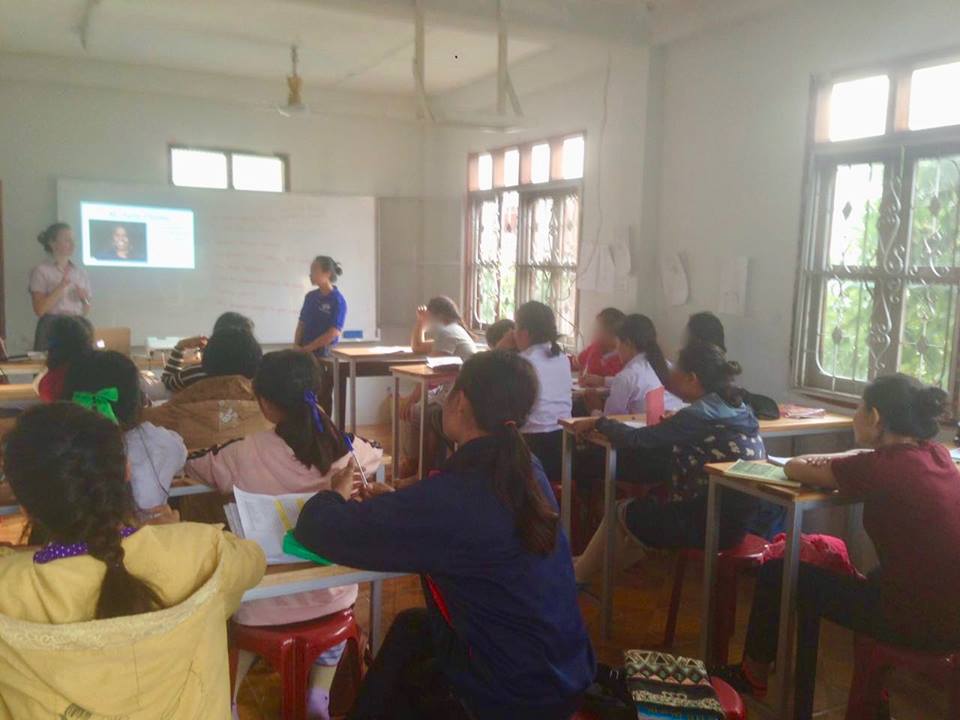 Of course you can't teach about empowered women without mentioning a little bit of Disney's Mulan. The girls loved this and Leyla, Lyly and I loved it even more watching their faces as they reacted to Mulan's trials and tribulations. It provoked some interesting questions about choice and the role of women in society and at the end we asked them all to design their own empowered woman. I'm sure I don't need to tell you how it feels to discover that one girl has drawn you as her empowered woman.
As well as these workshops I had an enormous amount of fun using songs to teach the girls 'English by stealth' as Leyla would say. When I think back it must have looked bizarre to outsiders seeing a white British lady teaching 'Do Re Mi' and Aretha Franklin's 'Respect' to a class of 20 Lao girls. But they had fun and, I argue to say, I had even more fun.
And it was at times like this that you forget where these girls have come from, why they are even on the programme. It's hard to look at their curious smiling faces and experience their generous affection and imagine what life must have been like before. Very rarely do you experience such a genuine desire to learn and are so eagerly accepted into part of the 'family'. People say that those who volunteer are amazing, but I think everyone of these girls is far more amazing to have overcome the negatives in their lives.
Unfortunately my time was short and I left two weeks into these workshops. I was so disappointed not to be able to see it through to the end but I know Leyla and the team will do a fantastic job, as they do with everything.
Good luck GVI on continuing such a worthwhile and exciting project. I shall miss you.