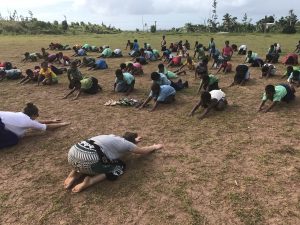 Hi, my name is Shelby, I'm nineteen years old and from Canada. I've been here in Fiji for 2 weeks now doing the education project. It has been a crazy two week, filled with new experiences, learning new skills and a lot of fun times.
School life is very different from Canada's. It's very interesting to see the difference in cultures from here to back home in Canada. It's been an honour teaching the students at Dawasamu District school, getting to know the teachers and volunteering doing something I love, working with children.
One of the great things about being here is that on the weekends and during the evenings after project, we have a lot of free time to spend experiencing rural Fiji. For example, at the weekend I hiked 'Tova Peak', this is a beautiful mountain overlooking Silana village. Meeting all the other volunteers and getting to know them was great.
The most life changing part about this experience is that we were all integrated into a family in the village. It has been such a beautiful privilege getting to know my family. I am so thankful to have been able to be a part of my family and it has encouraged me even more to come back to Fiji and volunteer with GVI again.
Overall this experience has been unforgettable. I will definitely be back and I encourage that is interested in a challenge, come to Fiji, because you won't have any regrets.