Its dark as I lay in my bunk. Morning hasn't broken. The birds have yet to sing. I close my eyes thinking of yesterday's surveys. Colours burst across my mind's eye. I see pink and yellow eyelash palm pit vipers, collared aracaris, summer tanagers, red eyed tree frogs, the list goes on and on. Images of sights and sounds exploding have me eager to start the day.
This morning we are leaving base camp for the estuary. From the estuary the water taxi will transport us to the ranger station. There we will pick up our canoe, "Porridge", named after our favourite breakfast meal. The canoe seats six. The leader sits alone in the back and paddles slowly during the survey. The next two seats, sit two each. These four will help the leader paddle back when the survey is completed. The front seat sits one, the spotter. Once on the river we will head south for the canal.
Today I have been assigned the spotter position. The spotter spots and counts wildlife. The spotter is not required to paddle. It's a dream job as I get to soak everything in, the morning light reflecting off the water, large tarpin rolling, the clouds floating by turning colours from pink to yellow to white as the day breaks. Oh, and of course the birds.
I think, what a contrast to last night's survey which took us into the deep darkness of the jungle. The trail was wet and the mud was thick. So thick in one spot, my foot came out of my rubber boot which had found a home in 15 inches of mud. I was balancing myself on one leg trying to keep my sock above the mud. The survey team was laughing heartily as those in front helped me balance my precarious position while those behind heartily tugged at my wellie. Finally extracting it from the mud, I put it back on. We forged ahead in the darkness our torches the only source of light.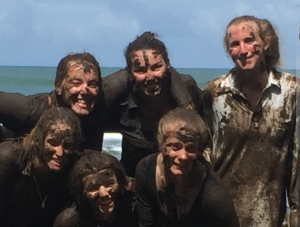 As the canoe drifts to its starting position, I am wondering which survey I enjoy most, canoeing the canals at day break, trekking through the deep dark jungle or returning from the beach at sunset. All are majestic and magical in their own right, but I realize what I enjoy most are the friendships forged with those who also endure the jungle life for the cause of conservation. Jalova has given me friendships so precious that I know I cannot repair her. Friendships, I will carry close to my heart for the remainder of my journeys where ever they may take me.
Chris Roach
March 25, 2017