On June 26th, I saw my first live elephant!!! I saw the beautiful Lulu and as you can see from the picture below, I wasn't sure what to think. Some of you may be surprised to hear that this was the first time I'd ever seen an elephant – especially if you've known about my "slight" obsession with elephants – but sorry to disappoint ya, it was love at first thought instead of sight.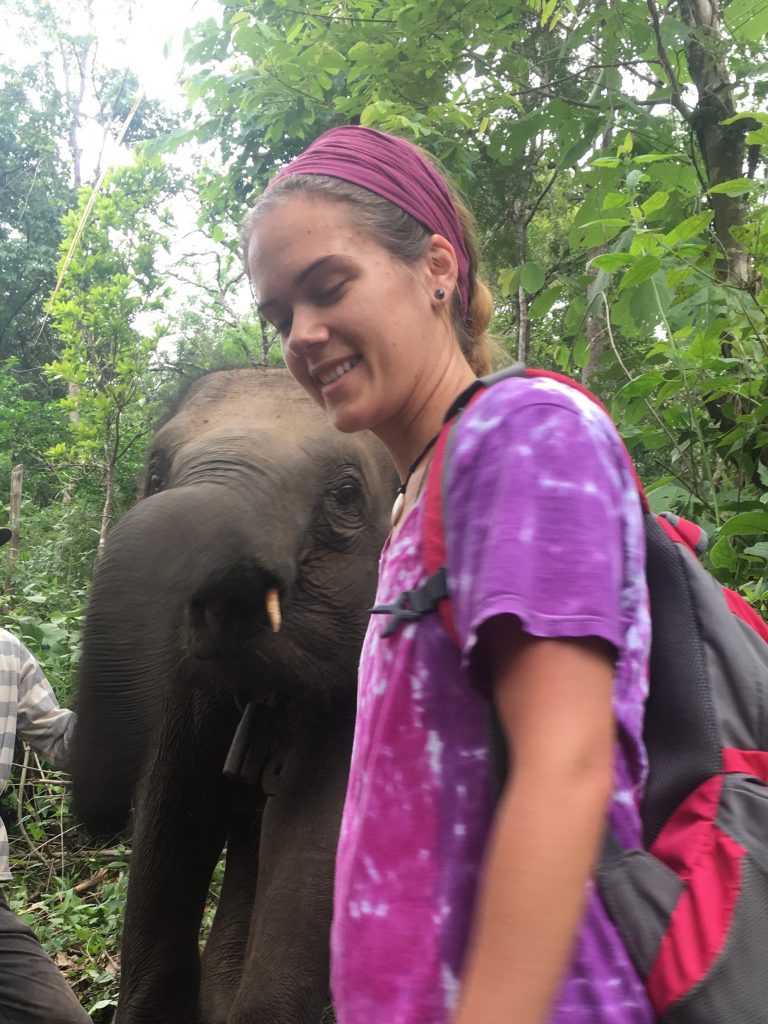 Don't get me wrong, It was definitely love at first sight as well as soon as I saw Lulu's little tusks. My first time seeing Lulu was exciting and a little nerve wrecking at the same time. I fed her bananas and watched as others did the same. I had read so many books and watched many documentaries, doing my research, but one thing that those books and movies never taught me was what to do when I came across one for myself. I didn't know whether she would accept me or if she'd disregard me all together. To my surprise, and excitement, she accepted me (mostly because I was shoving bananas her way).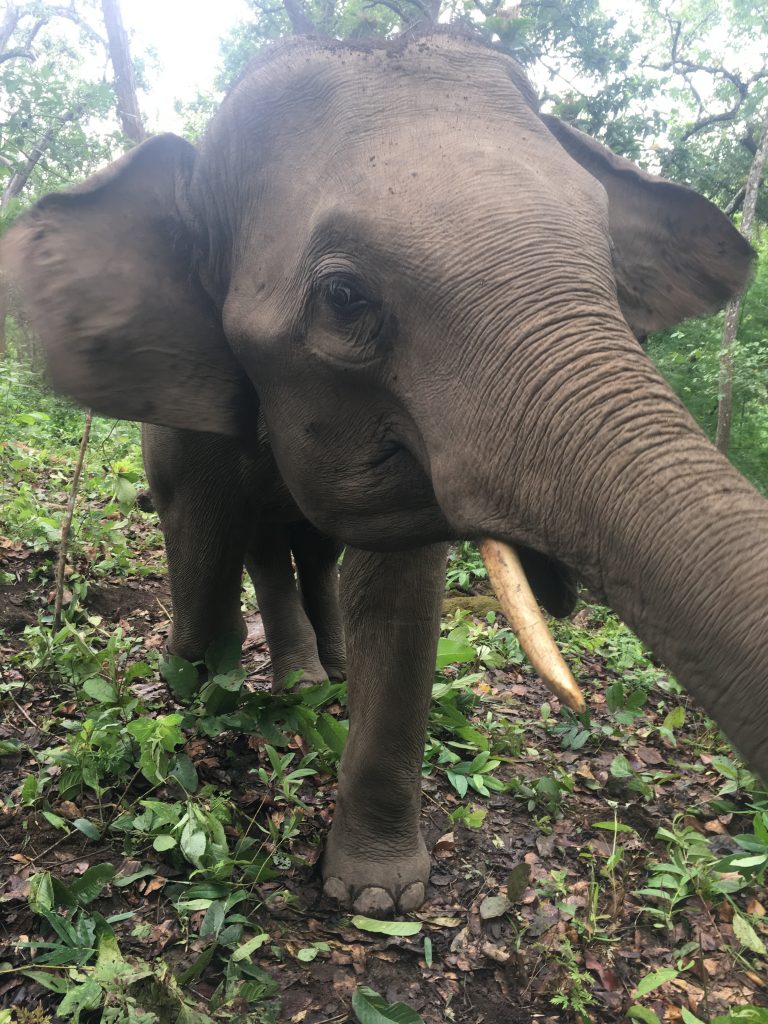 I knew right away that I had made the right choice committing to spending the next six months with these beautiful creatures. Monday through Friday I have the opportunity to hike with the elephants, Thong Dee, Charlie (shown in the picture above), Khum Suk, Kha Moon, Sah Jay, Lulu, Dee Dee and Bullowan. We spend each day hiking to the eles (some hikes are 7 miles long!) and we take data in order to monitor their behaviours, activities & the general welfare of the elephants. When we do a health check we bring them bananas or pellet food and get the chance to feed them while checking them over for any wounds and to get a clear body score that determines how healthy the elephant is. We record their activity for typically an hour and a half and we monitor their behaviour for the same amount of time. Each day brings new information and exciting hikes.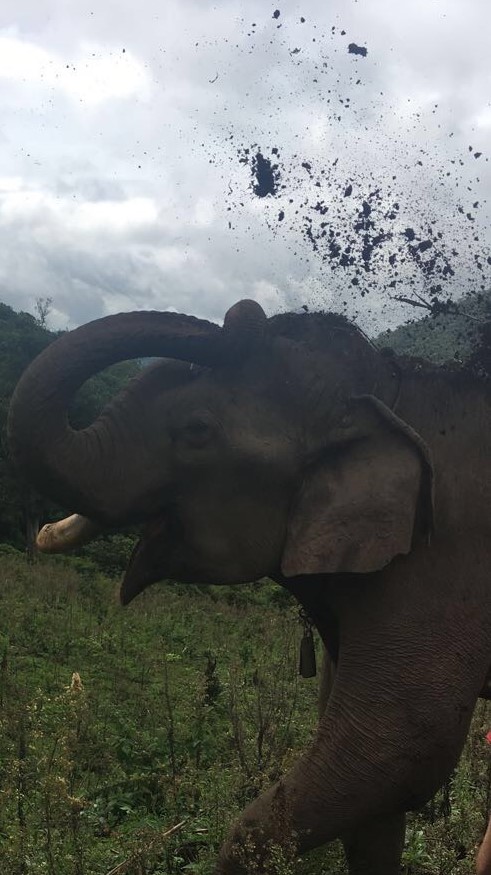 One of the more recent hikes I went on, I spent time with Charlie (one of the older males) and his grandma Thong Dee (seen in the picture below) and we followed them around for a while, watching how they interacted with each other and on their own. Half way through the hike we came to a stream and Charlie was drinking from it. Thong Dee wanted it all to herself and pushed Charlie, which caused him to trumpet. I had only heard one of the eles trumpet before and it startled me, but even that sound was magnificent.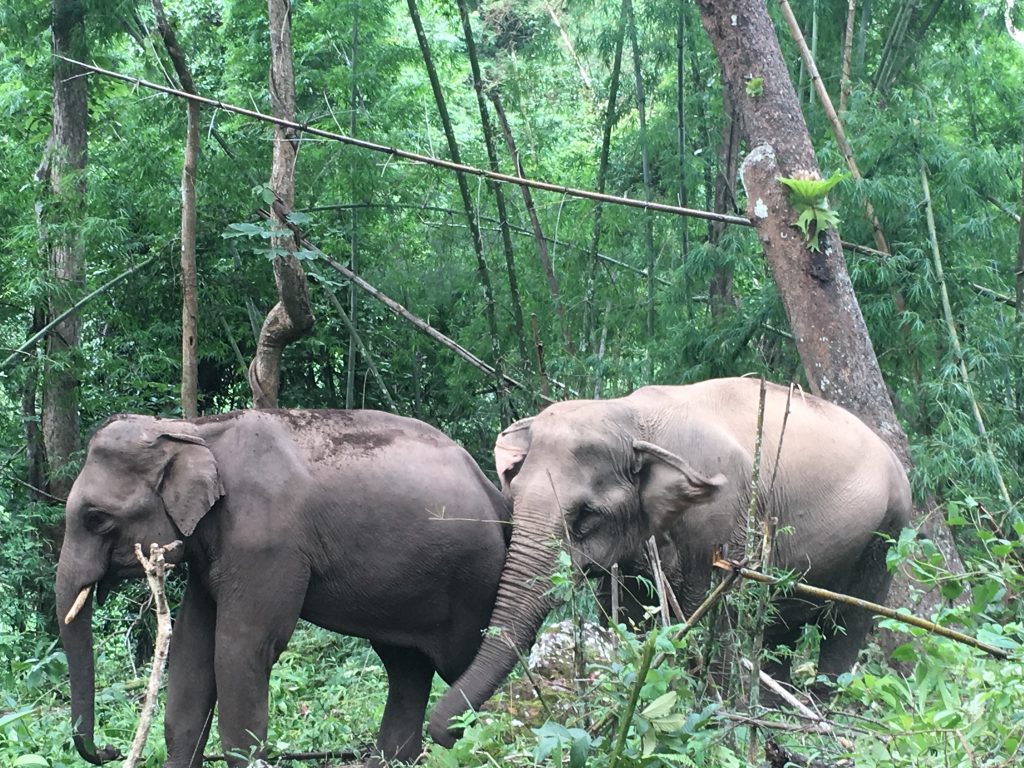 Each day is a new adventure and each day I fall more in love with these beautiful creatures. Who knew that eight elephants could make me want to wake up early every day (and spend 6 months eating loads and loads of rice!!!) Each day gives me a different story to tell with each second I spend with the Ele's and I can't wait to see what these beauties can do in the next 4 months. I look forward to learning as much as I can about them and to sharing this information with as many people as I can, in hopes to keep the idea that they can roam free alive.