On our base here in Caqalai many of our daily activities are focused around the reduction of plastic pollution and waste around our island and our neighbouring island of Moturiki. We lessen our pollution impacts by completing weekly dives against debris, snorkels against debris, and beach cleans. 
Dive and snorkel against debris
Between January and March 2020, we have completed several dives and snorkels against debris and collected a variety of trash on those dives weighing 29.7 Kilograms. These dives are completed twice a week; they consist of a 3-5-person team of divers that work together to spot different forms of debris on the reef. Through these dives, we hope to make a substantial impact on the cleanliness of our surrounding reef.
Beach cleans
We have also collected 35.4 kilograms of rubbish on 16 beach cleans.
Beach cleans give us an idea of forms of waste that predominantly end up in the ocean and not in the landfill. The beach cleans give us an idea of forms of waste that predominantly end up in the ocean and not in the landfill.
Contributing to data collection
Using the Ocean Conservancy mobile app, we provide data on our collections to a global database on trash collection. We hope that by completing weekly beach cleans we can lessen the amount of rubbish that ends up on our reefs and in the sea creatures and become more informed about future waste management solutions. 
Recycling Programme
One of our goals is to implement a recycling programme on the island of  Moturiki, there are many challenges to overcome mainly the removal of the waste to the mainland, while we are currently working on this we have encouraged local communities to do regular beach cleans which we assist with and ensure that the waste that can be recycled is taken to the mainland and joins the waste from Dawasamu and Bureiwai communities who so far over the last 5 years have recycled over 15 tons of recyclable waste.
Another area the island is focusing on is becoming a no plastic island encouraging communities to not purchase items in plastic bottles, reusing shops cardboard boxes to pack their shopping in instead of plastic bags. There several organisations based in Fiji that are currently working together to form a committee to help make Moturiki become a plastic-free island. These actions will be steps towards managing the abundance of waste found on their shores.
Goal #12: Responsible consumption and production.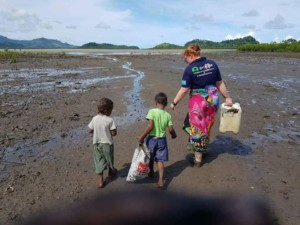 As a team here at GVI Caqalai our goals follow the guidelines of the United Nations Development Programme and Sustainable Development goals. This quarter we have heavily focused on Goal #12: Responsible consumption and production. This goal aims to substantially reduce waste generation and production by the year 2030. We can do this by recycling and reusing or repurposing our waste, beach cleans, dives against debris, and assisting the communities of Moturiki in educating about the importance of a successful waste management programme.  
We hope that our continuous work in responsible waste management has a ripple effect on the surrounding communities. Although we are such a small island, we can make a difference! Through weekly beach cleans, and dives against debris we can lessen the amount of waste that spreads to the rest of the ocean from our corner of the earth. We can also increase awareness of the world's waste problem by continuing to do waste management workshops in our neighbouring islands and communities.