Hello, My name is Owen and I have recently returned from my crazy GVI Intern placement in a village called Ban Namthouam, which is a town in the north of Laos. While in Ban Namthouam I was living at a l Primary school, and I would be assisting the teachers there as well as teaching Elementary English at a partner school.
A bit of background, I had been in Luang Prabang teaching with GVI for 6 months before going to Ban Namthouam. I had taught a range of classes, beginner to upper intermediate, with a large range of students. Some of my classes in Luang Prabang had as many as 35 students, and some classes had as few at 5. I had come to Luang Prabang as a 10 week volunteer, and decided to join the Internship program. After completing my leadership day, and my TEFL course, I was finally prepared to head out from the comfortable city of Luang Prabang, to the countryside.
My first impression of the school was when I woke up on Monday morning, stepped outside, and discovered about 20 Lao children standing outside my door waiting to say hello to the new teacher, who then were quickly joined by many other Lao children who had seen the 6'1 Canadian white man walk out of the door. Students flocked to find out who this new teacher was, and also why he was so tall. The younger students where firing thousands of questions at me in Lao, while some of the older ones where attempting to ask in English, whatever it was it turned into a chorus of yelling and screaming. That was fun.
Following this I met the teachers, who I found out quite quickly didn't speak English very well; this was to be expected due to the fact that they do not have very many foreigners in this part of Laos, and they are not English teachers, but I was still thrown off a little. This is when I realized I am going to have to learn –a lot- more Lao. I knew of one teacher who spoke English very well, but he wouldn't be coming to the school until 12 o'clock. My first class with the Lao teacher was crazy fun, the class was full of older students, and the Lao teacher did speak more English than she had initially suggested, so with her English mixed with my Lao, a form of communication between us was reached. Following the creation of our form of communication, class went smoothly and following our lesson, we played games and had an incredible amount of fun, -first impressions secured Teacher Owen is cool.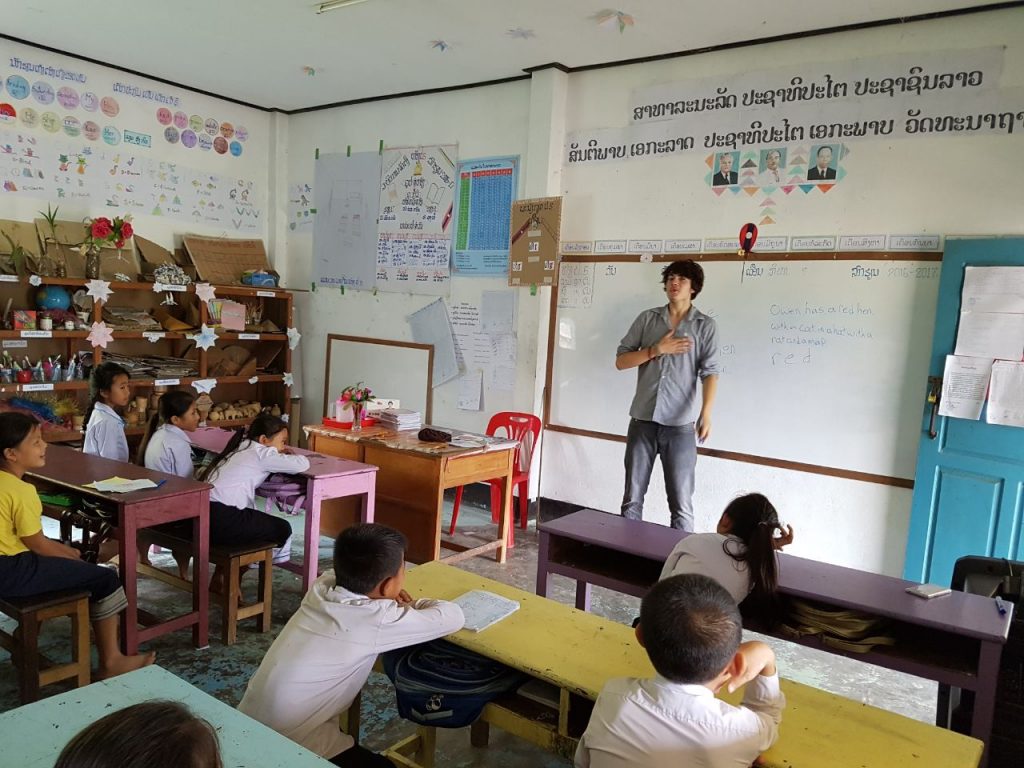 My next class, was a different story. I walked into the year 1 classroom confident, expecting the students to be similar to the first class. I was wrong. I walked into the classroom and saw, to my surprise, a class full of 5 year olds. My previous class the students had all been about 10 or 11, and before coming here I had always worked with older students, I realized quickly this month in the village is going to be quite different from my 7 months in LPB. I knew at this point I was going to have to go WAY out of my comfort zone. So, here goes nothing. I herded the children into their seats and we began…singing. We started with "Head Shoulder Knees and Toes" with the actions, followed by the Hoakie Poakie. I had never done something like that before…and I really enjoyed it. The students were laughing, having fun, and not hitting each other with backpacks, which was an improvement from my first couple minutes. The rest of the class went smoothly, I began to think that I could do this.
Following this I met the MEC English teacher I would be working with, and I met my MEC English classes. The students in this class where between 12 years old to 18 years old, and the students were lovely. They reminded me of my students in Luang Prabang. These classes where fun, and the students wanted to practice their English, so they would often come and talk to me. This was a bit of a weird experience, since I had read a lot of their letters asking for sponsors during my 6 months here, and I had seen their pictures posted outside my room for months, and now I was teaching them. It was surreal, I taught there for 3 hours, and adored it. The class had so much atmosphere and the students had such personalities, and the games were fun.
After class I ate dinner with the Lao teachers, which was a time that during the rest of my time in Ban Namthouam I would learn to cherish, because this was the time I learned the most Lao, and was able to practice the most. I learned quickly that the teachers were some of the nicest people I had ever met, and they had an amazing sense of humor. They were making fun of everything, from the fact that foreigners cannot cook, to how one teacher had dirty feet, to how another teacher eats poop.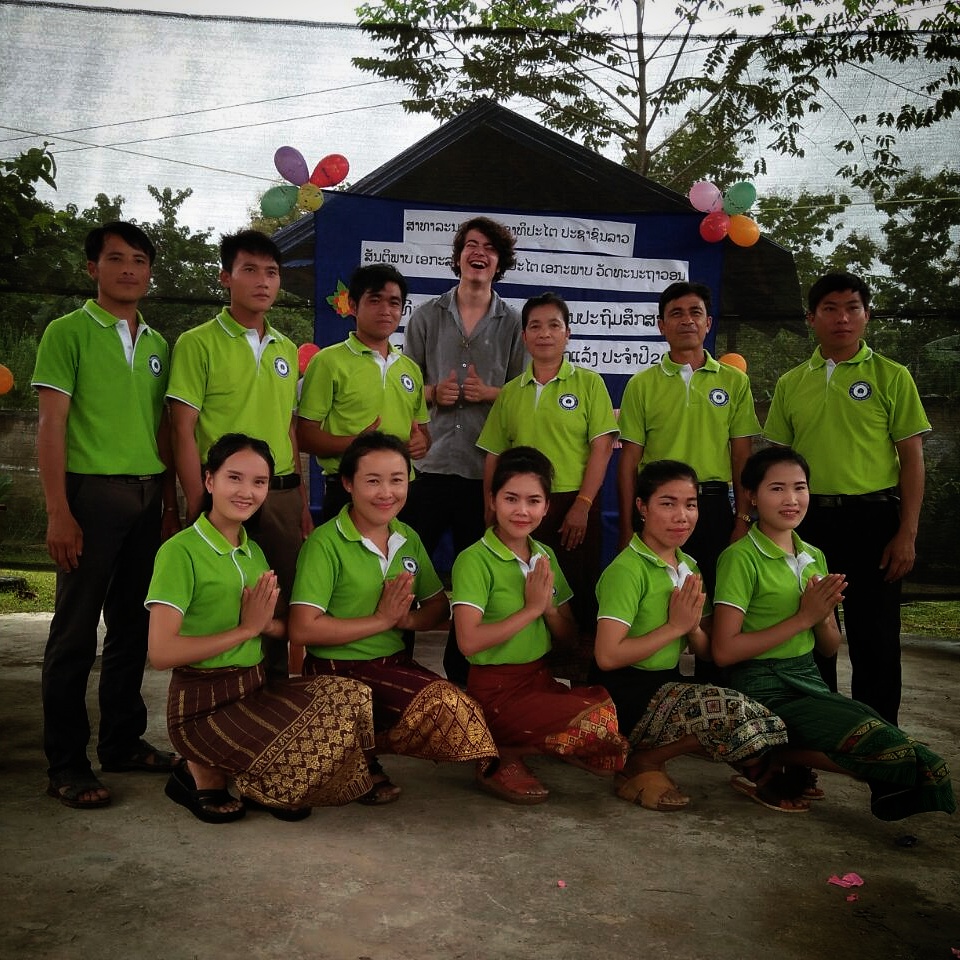 I went to bed that night confident, I was excited, this was going to be an experience and I was looking forward to what tomorrow would bring. I closed my eyes ending my first day ready, confident, and knowing that I could do this.
And then I was woken up by a rat in my roof.