Mangroves, coco de mer trees, turtles, tortoises, sharks, coral – what do all of these have in common? Living things? The focal point of many a photograph taken by tourists? Yes, but also species which turn surveys on Curieuse into treasure hunts!! Recently, many of our surveys have involved looking for things. Last week, I was part of a survey looking for alphabetical marker poles in the mangroves, which once located, would have a mangrove tree close by with a nail in it that gets measured each year. This in itself doesn't sound too thrilling, but when you're in a group of people, it gets quite competitive to find the pole and tree first! The task wasn't made any easier, but was made more fun, by some of the poles being located deep within the mangrove roots, or in swampy sections, meaning the morning turned into quite a muddy adventure! I alternated between clambering amongst the roots trying to find the poles before the other volunteers could, and standing perfectly still, surveying the mangroves around me, trying to pick out the grey coloured poles. To any tourists passing us on the boardwalks we must have looked quite bizarre! Either way, my morning amongst the mangroves has been one of my favourites.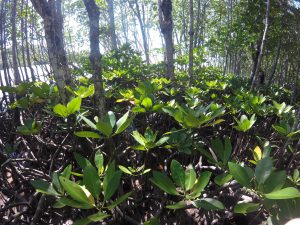 On the same treasure hunt theme, the giant tortoise census began within the past few weeks, and at the start of this week I spent a very wet and muddy afternoon back in the mangroves looking for the tortoises which normally roam all over Curieuse. Perhaps it was the rain, or they had a 6th sense that we were looking for them, but could we find any? Absolutely not! Whenever we walk past this area on the boardwalk there's always a couple mooching around, but not on that day! Perhaps it is like the phrase of not seeing the wood for the trees; it's quite easy to not see them when they aren't moving – there have been occasions where I've got such a fright when the massive boulder that isn't usually outside the dorm that I've side stepped without thinking, suddenly stands up or moves. Other groups have been much more successful finding tortoises for the census, so I'm sure they'll let themselves be found when they're ready!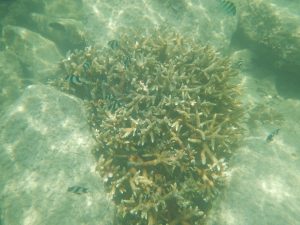 As a 3 month intern on Curieuse, I initially found it difficult to choose a project because everything here is interesting. One day whilst shark tracking in the turtle pond we stumbled (quite literally), across some really healthy looking branching coral. This inspired me to carry out my project examining the diversity of coral in the turtle pond, as it was relatively unknown that coral was to be found in there. And so, my own personal treasure hunt began! Over a number of mornings and afternoons, snorkeling and using the boat, we searched the pond, taking pictures and recording any coral found. As a result, I ended up with several hundred pictures to identify, and there is now a record of all coral in the pond. As well as finding many different species of coral, covering different growth forms and sizes, I was amazed at the other life to be found in there. From sharking, it was obvious that sharks can be found in the pond, but by putting my head underwater there was an array of life – brightly coloured fish, sea cucumbers, urchins, much larger fish, it was incredible!  
Now in my last week on Curieuse, I'm still amazed on a daily basis by what can be found on this island, there seems to be endless new things to see and find. Upon my return home to Scotland I'm going to have to create my own less-exotic treasure hunts, probably taking the form of finding odd socks in the laundry! Until then, I'm keeping my eyes open, greedily taking in everything I can, on this strange island which has become home.