Welcome to Julias Blog for GVI, I'm in my third week of this fantastic project on Curieuse Island on Seychelles, and have already made heaps of new friends and experienced awesome lemon sharks, hawksbill turtles and giant tortoises encounters, plus I'm enjoy living like Robinson Crusoe so much. I will walk you through the highlights of the last day and hope this will give you an idea of what to expect when you sign up with this project.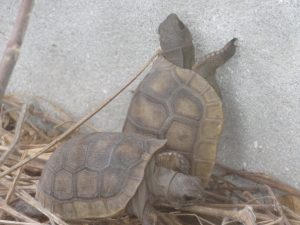 A couple of days ago we went to the Rangers Station to measure and weigh 8 new hatchlings of tortoises, 5 of them being a few weeks old and three only a couple of days. As I guess you can imagine, they are very very cute and so tiny, it's really hard to believe that they will one day actually grow into one of those huge giant tortoises fellows you can see at the Ranger Station. Anyway, we started right away with the measurement process realising pretty soon, how difficult it is to get the measuring tape around a tiny tortoises, taking each measurement three times to be as exact as possible…..we had to fiddle around quite a bit. They all weighed around 50 to 100 grams, which is as nothing compared to an adult of the species. In the end we marked them for future identification and took photos from all sides.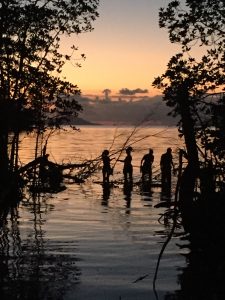 Next I would like to tell you about the sharking experience I had two nights ago. As soon as we got to the boardwalk in the Mangroves of Curieuse, Pete saw some lemon shark pups right from the boardwalk, jumped into the water with only a dipnet and caught a lemon shark right away. We could hardly believe our eyes, as nobody ever caught one with only a dipnet, and it was an unmarked as well, meaning it's one from the new season, which we were very happy about. We collected all the data we needed and chipped it before releasing it again. Altogether we caught 5 lemons that evening, 2 by dipnet only and the others with the gill net, we got 4 unmarked ones and one re-catch, so that was by far the most successful sharking for me so far, since we only ever caught one the last times.
I hope this gave you an insight in the work we do, and shows how successful we are…. plus think of all the fun we have all the time, it's definitely an incredible experience and something you have never done before in your life….Memories for a lifetime….