The beginning of my time at GVI Phang Nga
It's very difficult to describe the first time you pick up a baby turtle and hold it, tiny and wriggling, in your hands. This is what I remember the mostly clearly from my time in Thailand – a lot of turtles. I remember being on my hands and knees to scrub their tanks, and trying to fill the tanks back up with more water than they had before without anyone noticing. Holding these tiny creatures in my hands, that definitely don't want to be held, and trying to accurately put purple splodges of medicine on very small areas while they simply refuse to hold still. Spoiler: they ended up being almost completely covered in purple instead. Another spoiler: so did I.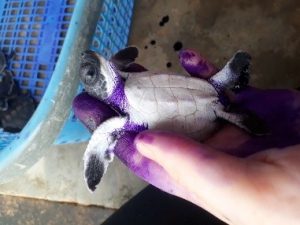 The start of my time in Thailand was actually very calm. At the beginning of the first week, we took part in a boat tour at a place called Little Amazon, which took us down an incredibly tranquil mangrove forest that created a canopy of green above our heads. I've always loved rivers, and any kind of river trip, but this was such a magical atmosphere that I almost felt like I should start meditating in the boat. If they were looking for a calm way to transition us into life in Thailand, they certainly found one.
In contrast, my first weekend in Thailand definitely did not make me feel like I should start meditating. We went on a group trip to Krabi, where we would then head on by boat to Railay.
I think the best part of the weekend was Tiger Cave Temple. I have absolutely no idea why it's called Tiger Cave Temple; as far from a cave as it can possibly be, it sits at the top of a 1237 step climb, and instead of tigers you get greeted by monkeys who are more than happy to run off with your water bottle. Slightly hungover, and already sweating profusely from the heat and humidity, we started the climb. This is the hardest workout I think I have ever done – and I know that isn't exactly a difficult record to beat, but this was extremely tough. I must have genuinely sweat out half my body weight, and I was only very slowly inching my way up the steps to the top. I know, I said this was the best part of the weekend, and so far it sounds like hell, but reaching the top was euphoric – probably partly induced by sweat-loss and exhaustion, but mostly brought on by the views from the top. The temple itself wasn't really a temple, but a huge structure built incredibly high up housing a huge Buddha statue and a mixture of viewpoints. And I could see for miles – absolutely stunning Thai landscapes that stretched out in front of me endlessly. There's nothing quite like it.