Part of the program I signed up for through GVI includes an internship component. This week I planned most of my internship project, but I was apprehensive about how it would all work out. I didn't feel like my heart was in it, nor was I really excited about what we were doing. I was a bit anxious about how the other volunteers would respond and if what I was doing would make any difference at all.
After talking with Hannah, the base manager here in Pokhara, and Rhythm, the teaching coordinator, I decided to do a 3-part leadership project focusing on litter and climate change. This project could also help build momentum for the new plastics project they are planning to roll out in Pokhara within the next year. Part 1 of my project would be the "Cow Park Clean-Up." The Cow Park is a park near our homestay and near where we do Conversation Club (CC) every day. CC is an afterschool program for the local neighborhood kids to practice English and have fun! In the Cow Park, aptly named because there are often 3-4 cows roaming in the park on any given day, we play cricket, handball, soccer, and many more games, trying to avoid the cows as we run around.
I scheduled the Cow Park Clean-Up for this past Thursday (September 26th). The plan was to clean up as much litter as possible in 30 minutes. We all had our doubts about how 30 minutes was way too much time, and we were unsure we could even fill 3 bags with litter. Much to our surprise, 30 minutes came and went quickly. All of the volunteers (13) managed to fill 5 large sacks to the brim with litter! I was amazed at how much litter was in this small park and how much we could pick up in one 30-minute session. We weighed the litter and it was 50 kg – or 100 pounds! To put this into perspective, I did a few calculations. If all of Nepal was covered with as much litter as the Cow Park was, which I do not believe is implausible, there are currently 3,772,991 pounds of litter across Nepal. This is equivalent to 1,1263 compact cars. Not only did we pick up a lot of litter, but adults in the park thanked us, started picking up trash themselves, and were incredibly encouraging. With this successful clean up behind me, I was excited and energized to continue planning Part 2 of my project.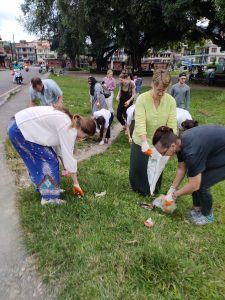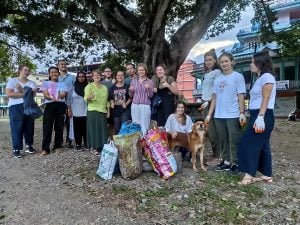 The next day, myself, Rhythm, and one more teaching volunteer planned CC for the next week, Part 2 of my project. During this time of year, the main festival season of Nepal kicks in. Because of this, the students are off from school, so we have 2-hour long CC's every day. I wanted to create a weeklong curriculum for this time period on the topic of climate change. After brainstorming and planning all morning, I met with all of the GVI volunteers, and they helped plan the activities, crafts, trivia, and games for the students. Following this meeting, I made a PowerPoint presentation, solidified the lesson plans, and created a student workbook over 2 days. This coming week, I am excited to see how these lesson plans work in practice!
Part 3 of my project will be a trek to Australian Base Camp to pick up more litter. I am excited about this phase of my project as we will be able to hike in the beautiful Annapurna region while also helping the environment. Part of the reason I am now so excited about my project is because of the feedback from the base manager, Hannah. Hopefully the work I am doing will be used for years to come, and the litter initiatives I am starting will make a lasting impact on Pokhara. I am proud of the work we have done and humbled to be a part of such a great organization that does amazing things for people and the environment