I still remember the first time I walked into one of the classes 2 months ago. At that point, I had no idea how I was going to cope with all those playful kids. As the time passed by, everything went more smoothly and I really saw the children's English improving. As I am not a native English speaker, this project was also a challenge for me to improve my own English.
I really enjoyed teaching 5-16-year-olds in the Thai schools, the Burmese schools and the disabled students center, but the little toddlers in the orphanage made me smile the most. The love you get for just teaching some colours or fruits is indescribable and that really motivated me to try my best to help them even more. Next to the teaching part, I also had the chance to go to the Thai Navy Base where we scrubbed the turtle tanks and took care of these beautiful creatures.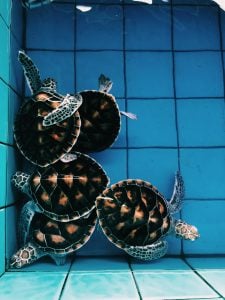 Since I stayed in Thailand for 2 months, I really bonded with all the students. This made it easier to teach them because I knew their capabilities and their level of English. My favorite class was P1, they were 6 years old. It was too adorable when they shouted "teacher" every time they wanted me to correct a new written word in their books. The high fives afterwards made us smile so much that I forgot I was actually 'working'. Seeing these little ones jumping on their tables and shouting to get picked for the slap game is also something I will never forget. The 11-year-olds, who I taught almost every day, even brought their guitars on my last day of teaching to sing songs together. And last but not least, the little ones from the kindergarten gave me the biggest hug ever right before I left.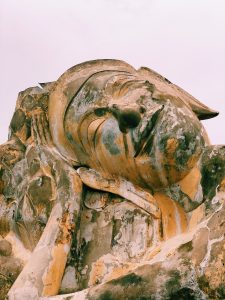 During the weekends I visited wonderful places such as Phi Phi, Khao Sok National Park, Railay beach, Khao Lak and Patong. These weekends made me feel Iike I was living a dream in which I made memories for life with the most beautiful people from all over the world. The other volunteers really felt like family after spending every day together. We even flew to Bangkok and Ayutthaya where we stayed in Khao San Road and visited the impressive temples. Heading to Bob's cocktail bar and Gecko every week and singing our lungs out made us ready for a new wonderful weekend.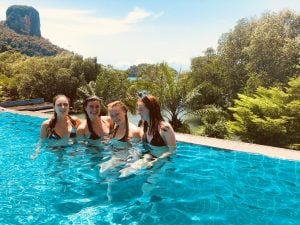 These months have passed by so quickly but volunteering with GVI was undoubtedly the best decision I have made for a long time. I saw people come and go which was heartbreaking but these two months were honestly the best of my life with some of the best friends I have ever made.Thank you all.