Finding the last Tortoises
At last count there were 130 tortoises on the island of Curieuse. The GVI team conducts a census to get an idea of population growth and health of the tortoises, once a year over a period of six months with the 30th of September being  the cut-off date. Time was running out and to reach our goal of accounting for 95% of the Curieuse tortoises. Our tortoise team that day, Grace, BB and I, needed to find two more specific tortoises. We headed out to Grand Anse on Tuesday 25 September with little hope of finding our missing tortoise, who had evaded detection for several months. But nonetheless once we reached the beach, the hunt was on. BB and Grace spotted a tortoise with no visible number half hidden by brush and tree branches. "What's the odds of our first tortoise being the one we need?" BB said, not very enthusiastically. Scanner was pulled out, tortoise was scanned, number read and matched with corresponding tortoise number, and bingo – number 27 – our long lost tortoise! BB's face lit up as though she'd won the lottery! But what about that second tortoise that still needed to be found and counted, you may ask. That tortoise was number 14 (Obama!), who hangs around the GVI camp and is always an easy find, and so always the last tortoise to be counted.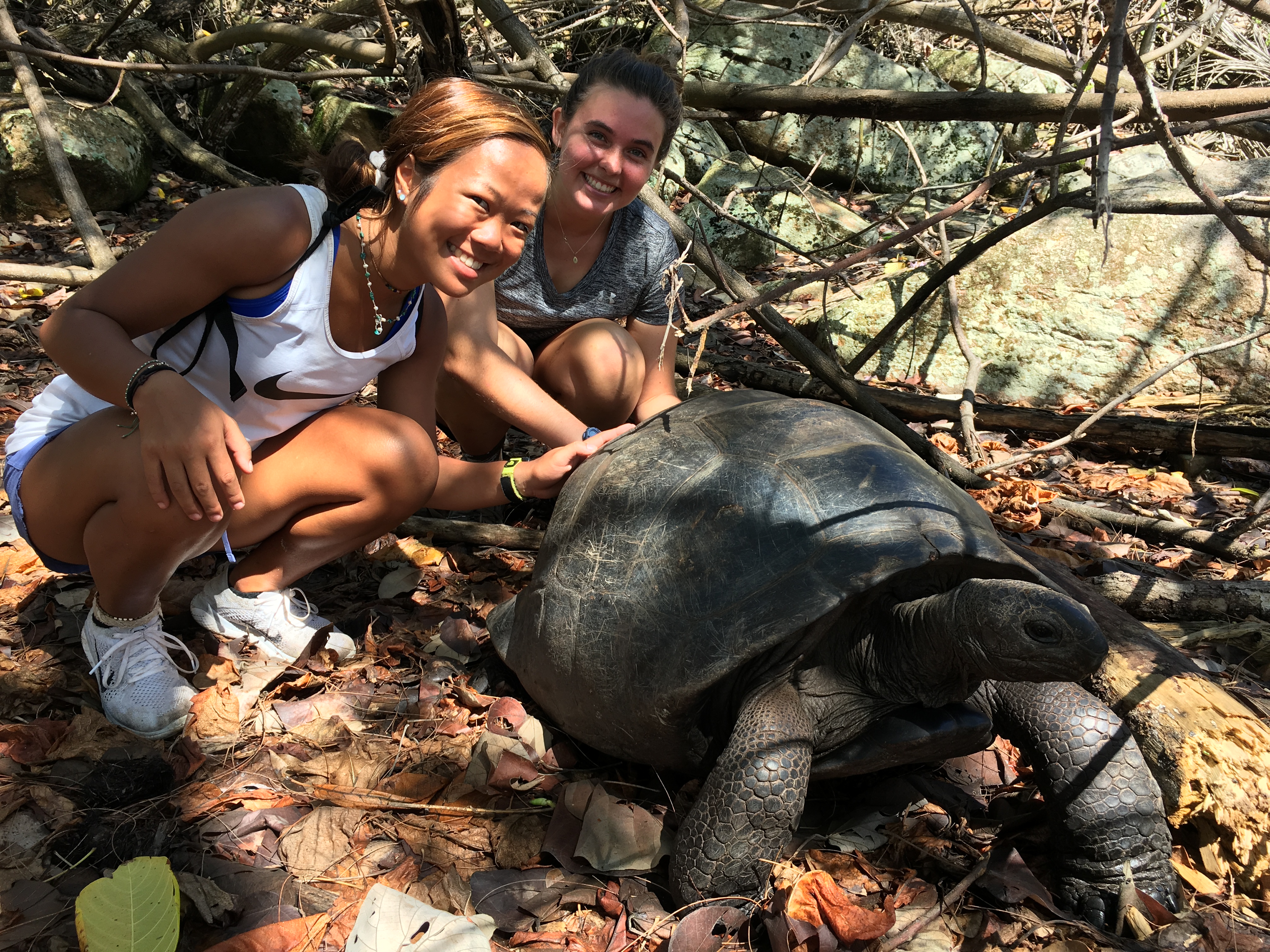 Sizing up Hatchlings 
In the afternoon we headed off to Grand Anse again, but this time our mission was to hunt hatchlings and measure them. So in reality, no need for hunting and no need to go all the way to Grand Anse. The hatchlings hang out at the Ranger Station and are kept in special pens to ensure their survival. They are found and collected mostly by the rangers during the hatching season, which is from November through February. Once they reach five kilos or so they are big enough to fend for themselves and are released into the general population and given a brand new 'grown-up' chip. As their regular enclosure was being upgraded on this day, they are being kept in large wire pens, that needed to be cut open in order for one of us to get in and retrieve a couple of hatchlings for the team to measure and check out. Grace, being the most petite, was nominated for that task and she performed it well. She squeezed down into the small opening, making sure she placed her feet very strategically among the little hatchlings to ensure none were inadvertently stepped on! One at a time she brought out four hatchlings for us to measure (and play with). All the ID's and measurements of the hatchling sample were recorded and they were safely put back in their 'home'. After which we all headed back from the Ranger Station to GVI camp. Tiring day but very rewarding.