Original photo: "Laos" by Felixphotography.de is licensed under CC BY 2.0 
Volunteering in Laos is an excellent way to gain a deeper understanding of the country.  Make the most of your free time in Luang Prabang and explore the city's culture, history, food, and adventure opportunities.
Tucked between the Mekong and Nam Khan rivers, Luang Prabang is a place of sensory awakening. Bringing together outstanding natural beauty, golden temples, and a dash of exquisite cuisine, this former capital is an essential stop when you visit Laos.
Volunteers have the chance to linger longer than others who travel Laos. On weekends, when projects are paused, you can take your time to enjoy the many activities the town has to offer.
Here are the top things to do in Luang Prabang, Laos.
Culture
Centuries-old traditions and customs are still an important part of daily life in Laos. Taking the time to gain insights into Laos culture is infinitely rewarding.
Watch the alms giving ceremony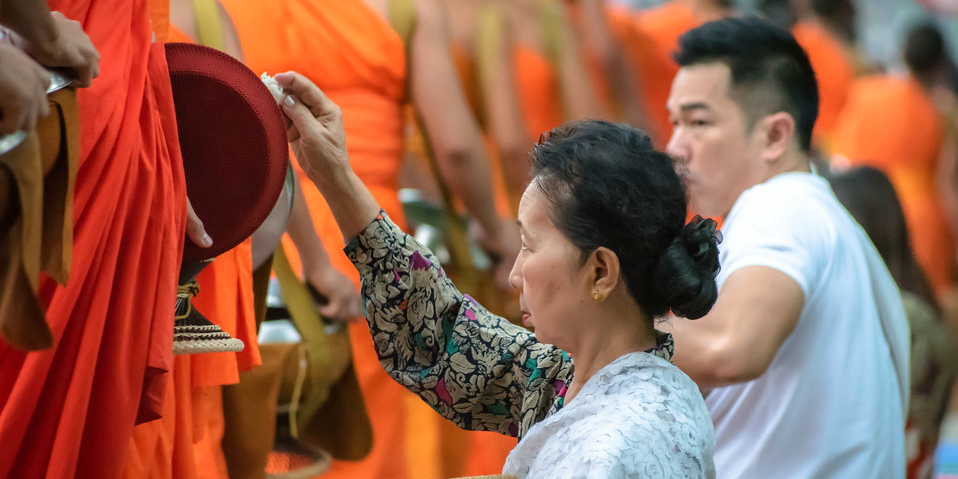 Original photo: "Morning Alms Giving Luang Pruabang" by innlai is licensed under CC BY 2.0
Wake up before sunrise to watch saffron-robed monks walk single-file through the streets for this food giving ritual. The custom of offering food to the Buddhist monks helps to sustain monastic communities in Laos.
In Luang Prabang, hundreds of monks line the city streets each morning, ready with their bowls. Kneeling almsgivers distribute sticky rice or bananas, and carefully place a portion into each monk's bowl. This tak bat ceremony has taken place for over 600 years.
If you wish to take part in the alms giving ceremony, remove your shoes, dress conservatively, bow your head to show respect, and don't make eye contact with the monks.
Visit the handicraft night market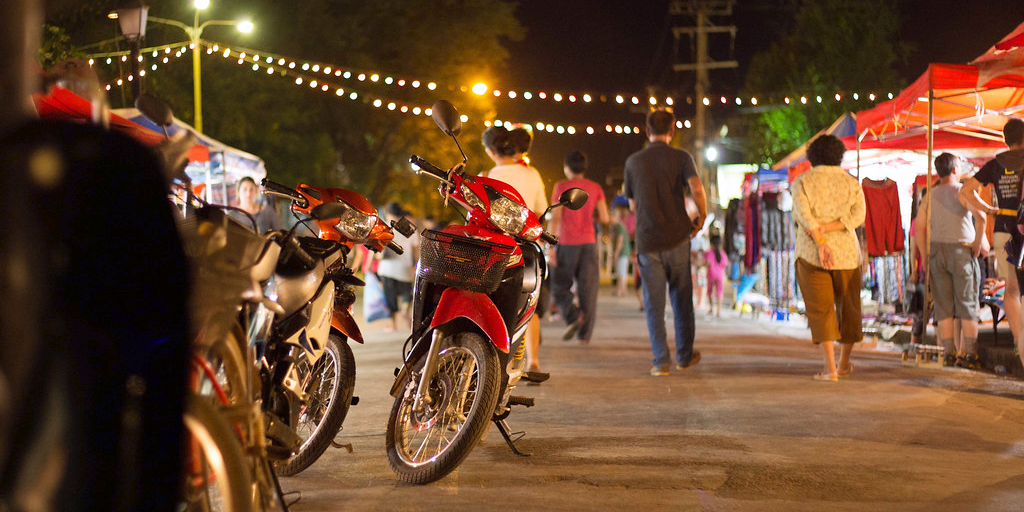 Original photo: "Luang Prabang – Laos" by Christian Bowman is licensed under CC BY-SA 2.0 
Visiting a Laos market is always an interesting experience, and Luang Prabang's Handicraft Night Market is no different. Kicking off after 17:00 each evening, this market is a colourful assembly of local traders.
Come here to shop for silk scarves, Hmong applique blankets, wood carvings and jewellery. You'll find the market along Sisavangvong Road in the centre of town.
Watch the sunset from the top of Phu Si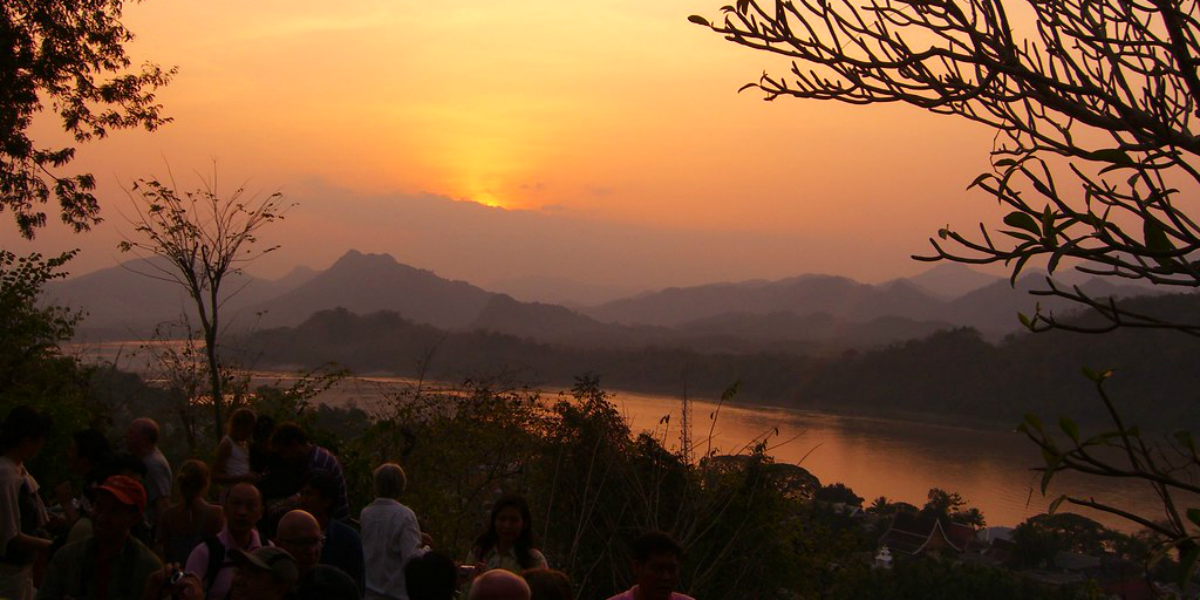 Original photo: "CIMG2297" by deevaugn is licensed under CC BY-SA 2.0 
Rising 100 metres above the town centre, Mount Phu Si offers 360-degree views of Luang Prabang and is the perfect vantage point for hazy sunsets. Climbing the 329 steps to reach the top is well worth it to see the golden pagodas and distant mountains drenched in the late evening light.
History
Luang Prabang was once the royal capital of Laos, so the city has a legacy of elegant buildings. You can learn more about Laos history by touring the compelling temples and distinctive streets.
Wander through the Old Quarter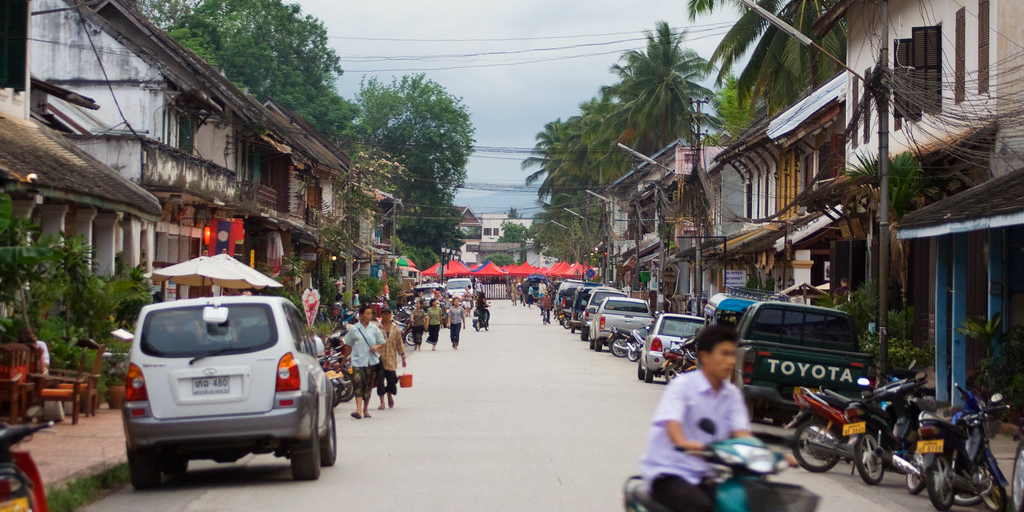 Original photo: by Mr ATM is licensed under CC BY 2.0 
Luang Prabang's rich architectural heritage fuses traditional Lao architecture with that of the French colonial era. Designated a UNESCO world heritage site, the Old Quarter invites slow afternoons of wandering the streets, absorbing every detail and enjoying the feeling of stepping back in time.
Visit Wat Xieng Thong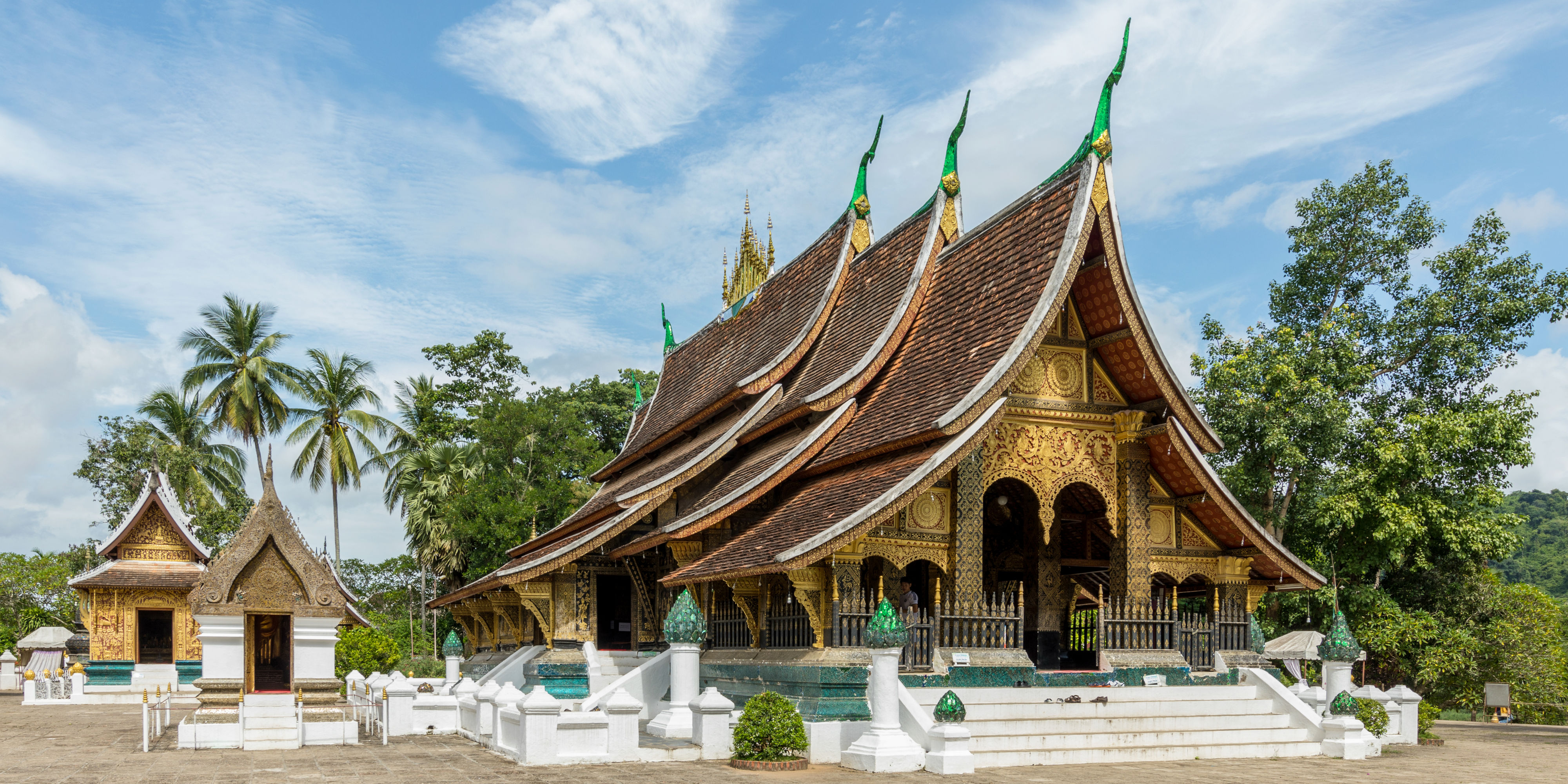 Original photo: Basile Morin
The most famous monastery in Luang Prabang dates back to 1560. This Laos temple stands out thanks to its rich decorations, mostly gold stencilling on black lacquer. Between the lavish gilt work, intricate mosaics, and large teak pillars, there's a lot to marvel at in Wat Xieng Thong.
Explore the rest of Luang Prabang's temples
There's no need to stop with Wat Xieng Thong. Luang Prabang has 33 glorious gilded wats.  As Luang Prabang is the spiritual centre of the country, the wats – Buddhist temples – still have an active role in daily life in the city.
The temples are home to monks and novices, and their orange robes are a common sight in the streets. Make sure you check out Wat Phon Phao, Wat Aham, and Wat Mahathat, some of the most impressive and ornate temples in town.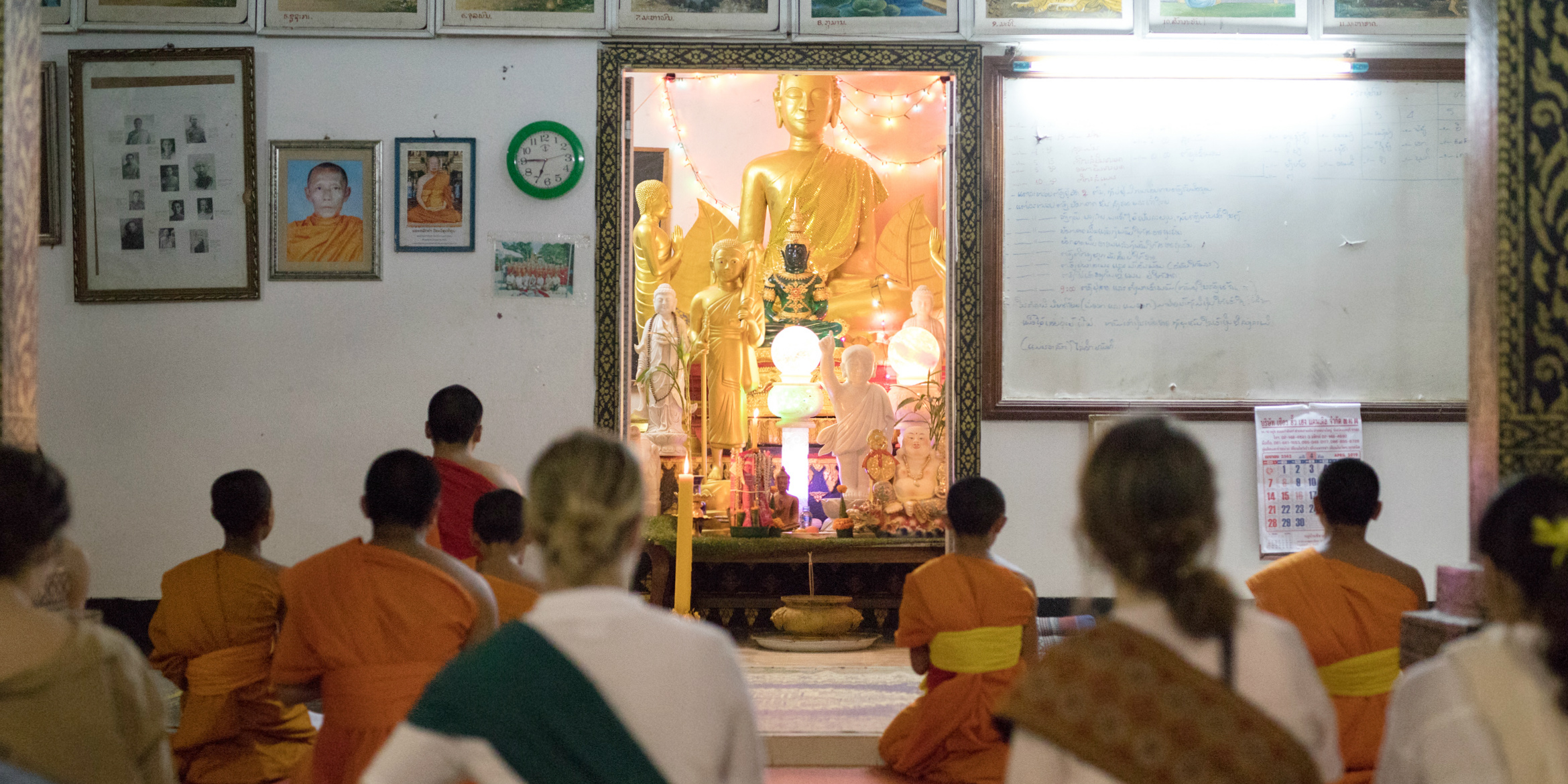 Food
Lao cuisine is similar to that of Northeast Thailand, but is infused with its own flavours and customs. An interesting fact about Laos is that Laos people eat more sticky rice than anywhere else in the world. Discovering sticky rice, and other popular Lao food for yourself is an essential pastime in Luang Prabang.
Savour French pastries at Le Banneton
The French colonial influence is still obvious in local food. One of the best examples is the pastry selection at Le Banneton bakery. Delicious croissants, pain au chocolat, and crepes will satisfy your sweet tooth, while the baguettes make for a satisfying lunch. As well as serving up tasty food, Le Banneton is a breezy, elegant spot to stop and people watch for a while.
Learn how to cook at Tamarind
Laos food is delicious. Learning how to cook local dishes with a cooking class at Tamarind, a restaurant and cooking school, is one of the best ways to explore Laos cuisine. Tamarind aims to teach cultural customs and etiquette around food as well as Laos recipes. A class also includes a visit to the major food market, which can be a great lesson on how to shop locally and inspire you to try new flavours.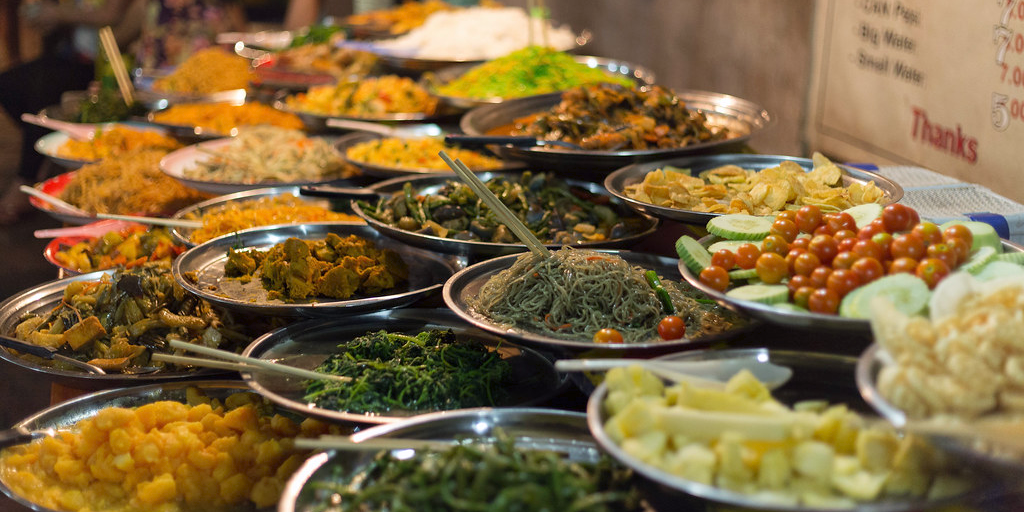 Original photo: "Luang Prabang – Laos" by Christian Bowman is licensed under CC BY-SA 2.0 
Adventure
Laos's lush landscapes invite adventure. Go hiking in Luang Prabang to be immersed in the jungle, discover caves, and swim in waterfalls, or take to the water and sail down the Mekong River.
Hike to the Kuang Si Falls

Original photo: "Kuang Si Waterfall" by innlai is licensed under CC BY 2.0 
Possibly the best Laos waterfalls, the fairytale Kuang Si is located 29 kilometres south of the town. Visiting Luang Prabang's famous waterfall involves a short 20-minute hike through the jungle. The falls themselves are tiered pools fringed with white cascades. You can swim in certain pools, but pay attention to any "no swimming" signs, as some of the pools are considered sacred.
Visit the Pak Ou caves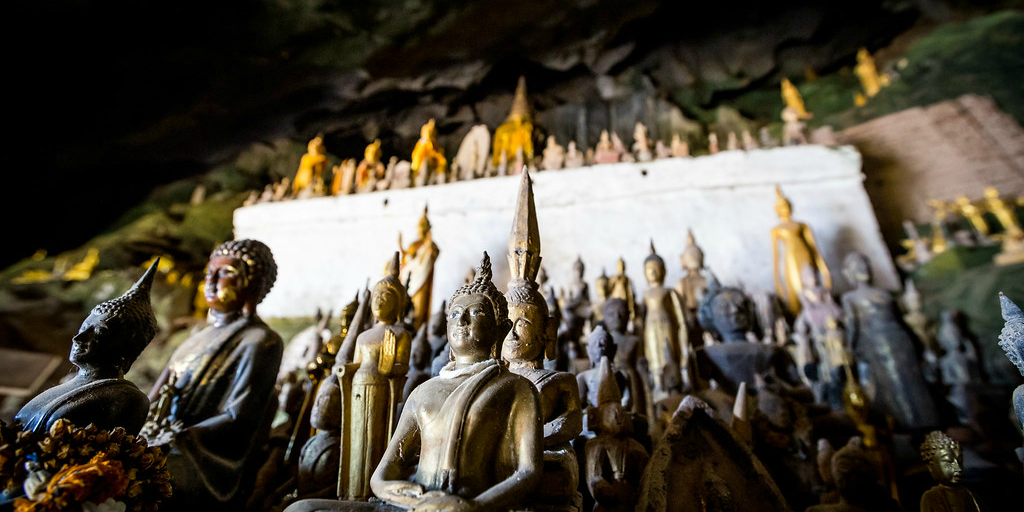 Original photo: "Laos" by Felixphotography.de is licensed under CC BY 2.0 
The Pak Ou caves are embedded in limestone cliffs, overlooking the Mekong River 25 kilometres north of Luang Prabang. More than 6,000 Buddha statues fill the caves, lining the walls in a range of sizes and positions.
The statues, combined with the view, make the caves a stunning sight.  You can reach the caves either via a river tip or by tuk-tuk, followed by a short climb up the stone steps.
Go on a river cruise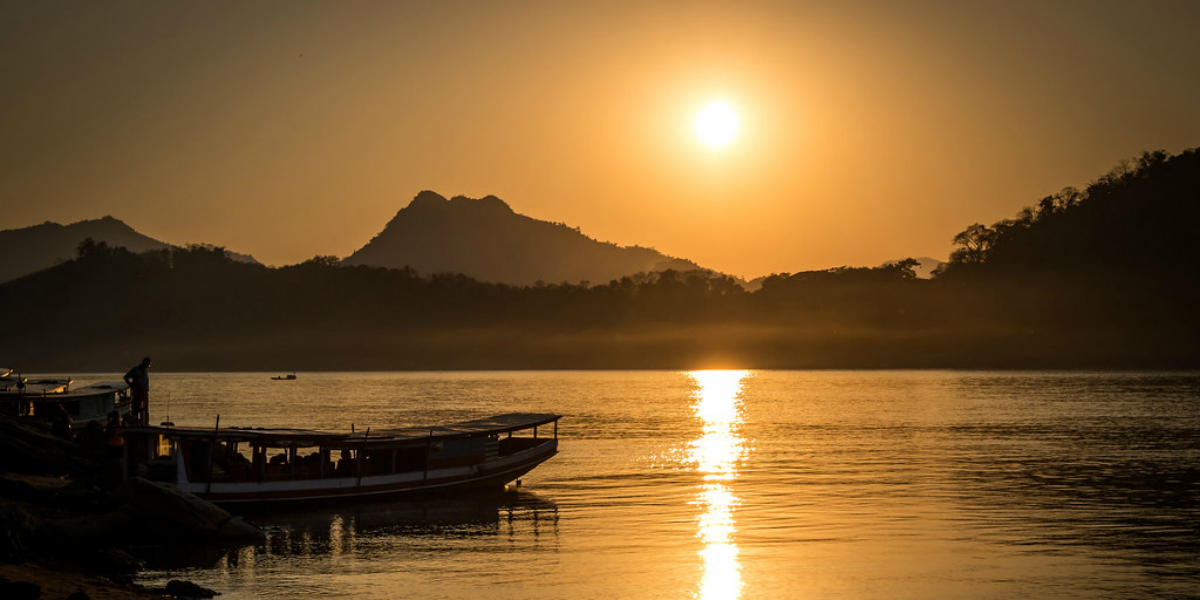 Original photo: "Laos" by Felixphotography.de is licensed under CC BY 2.0 
A river trip is an almost mandatory activity in Luang Prabang and one of the best things to do in Laos. Boats and their captains line the Mekong, so you can take your pick of simple local vessels that will cruise you up and down for an hour or luxury boats you could spend all day on. A popular time to take to the water is just before sunset when haloes of golden light float around fishermen as they reel in their catch at the end of the day.
Volunteering in Laos with GVI will give you plenty of time to explore Luang Prabang and its surrounds. Browse our volunteer opportunities in Laos to find out how you can have an impact today.