Shark Guardian Book Launch
Shark Guardian Partnership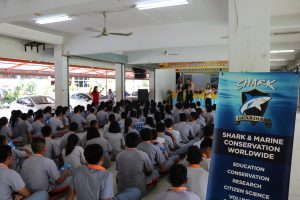 Educating the younger generation on the importance of sharks across their local marine ecosystems is an important focal point if we are to ensure the survival of these amazing creatures. Thailand has a wide variety of shark species found in surrounding waters, however, it is also not uncommon to see sharks for sale in restaurants across the country. With shark numbers declining, the next generation desperately need to hold a thorough understanding of the role that sharks play in keeping their oceans in a healthy state, the same oceans that millions of people across Thailand depend on.
After much design and creativity by Shark Guardian and their author, the children's book "Sharks – Our Ocean Guardians" was written and printed in English. GVI Phang Nga then helped increase the reach of this book by raising money to fund the translation into Thai and the printing of 1,000 books that can be distributed to schools across Thailand for free. This project continues the Shark Guardian mission of creating educational tools for as many people as possible about sharks and marine conservation for free, worldwide and attempt to counterbalance the endless negative portrayals of sharks in the media with a fun book for children illustrating the importance of sharks and showing "sharks are our friends!"
The day of the book launch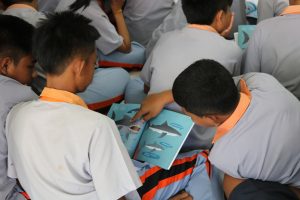 Once the printing was complete, GVI Phang Nga began reaching out to schools within the region to help Shark Guardian organize book launches and handouts at the schools. GVI Phang Nga have previously worked with a local high school in Takuapa, teaching English and running summer camps for the students. It turned out that this would be the very first school that would host the book launch, and planning began to ensure an impressive, and impactful first book handout event.
In the run up to the event, GVI volunteers and staff worked hard on creating a variety of resources to be included in the day's activities; games, activities, bookmarks and even a large papier mache shark was created! On the day, Shark Guardian gave an exciting presentation on sharks and marine conservation in the school's library, and GVI volunteers engaged with the children and the activities, asking them questions throughout the event to judge how much they had learnt from the presentation and activities. It was clear that many children retained information on shark species, threats, and how they can change their behavior to ensure that they are providing sharks with the best chance possible of survival.