Phang Nga Bay is an area of exceptional natural beauty. It is close to Phuket, Krabi, and GVI's Thailand coastal projects base. See the best of the area with this Phang Nga Bay travel guide. 
With sheer limestone karsts, emerald waters, and an abundance of tropical islands, Phang Nga Bay is one of the most beautiful places in Thailand. 
Four of the country's best conservation areas sit close together in Phang Nga province, meaning there is a wealth of natural treasures to enjoy. 
Above sea level, the bay offers up mountains cloaked in some of the oldest rainforests in the world. Below the water lie some of Thailand's most outstanding coastal treasures.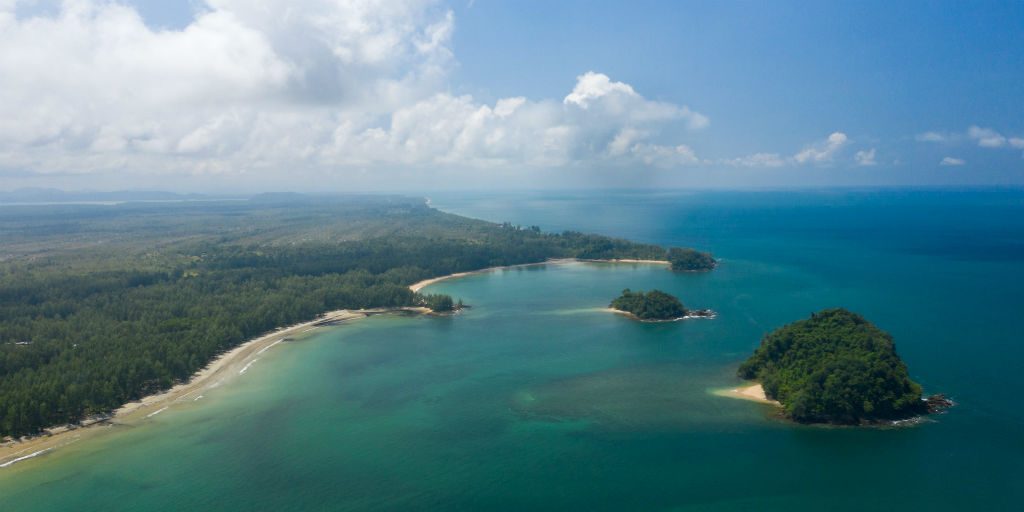 Here is our guide to seeing the best of Phang Nga Bay. 
Getting to Phang Nga Bay
Where is Phang Nga Bay?
Phang Nga Bay, Thailand is located in the Andaman Sea. Found roughly 24 kilometres northeast of Phuket, in southern Thailand, Phang Nga Bay is an inlet of the Malay Peninsula. 
The closest airports to the bay are in Krabi or Phuket. Either of these places make a good base for exploring the Phang Nga province. Another option is to stay in Khao Lak, where you can enjoy powdery white beaches, as well as convenient day trips to islands and rainforests.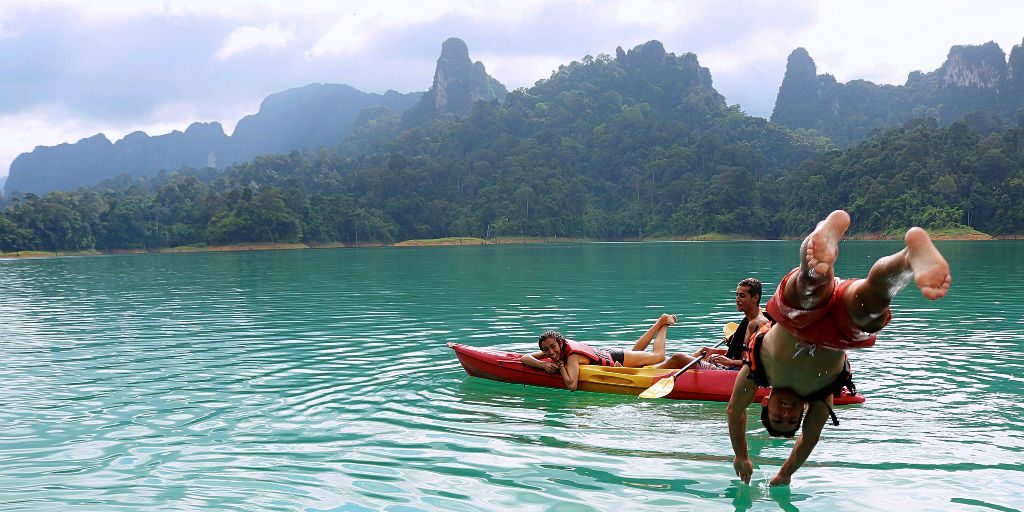 From Phuket or Khao Lak, the Surakul Pier, where many boat trips depart from, is a 90-minute drive. 
Some boat tours depart directly from Krabi. 
When to visit
Phang Nga has two distinct seasons. 
From mid-October to mid-April, the weather is clear and sunny. There is less rainfall and the weather overall is cooler and less humid, particularly during December and January. 
However, this is when most visitors flock to the pristine waters and beaches of Phang Nga Bay. To escape the crowds, visit the bay early in the morning or later in the evening.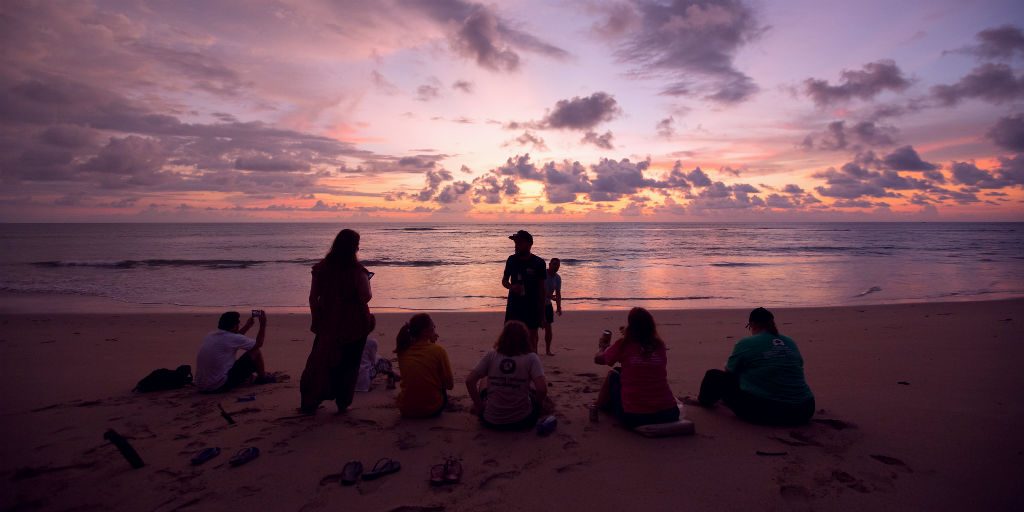 If you choose to visit between May and October, which is monsoon season, there will be far fewer people, but you may have to contend with frequent rain and high humidity. 
The best way to see Phang Nga Bay
The best way to see Phang Nga Bay is with an organised tour. A range of full-day and half-day tour options depart from Krabi, Phuket, and Khao Lak. 
Most tours will follow a similar itinerary and cover highlights such as James Bond Island and Ko Panyi, a fishing village built on stilts. 
Usually, you will explore the bay by boat, with stops to swim at secluded beaches or kayak around the limestone rock formations and sea caves.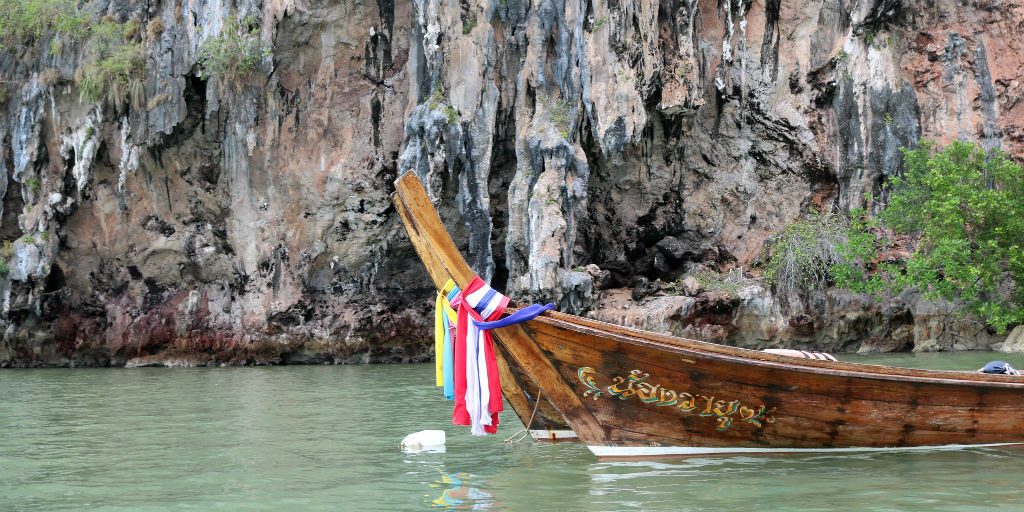 Guided Phang Nga Bay canoe tours are an eco-friendly and more peaceful alternative for exploring the bay. These are a great option for finding some of the more secluded spots in the area, such as sunken sea caves, mangrove swamps teeming with wildlife, and beaches hidden away from most visitors.
A Phang Nga Bay afternoon tour is a great choice if you want to experience the golden hues of a Thai sunset while cruising the Andaman Sea. 
The best things to see and do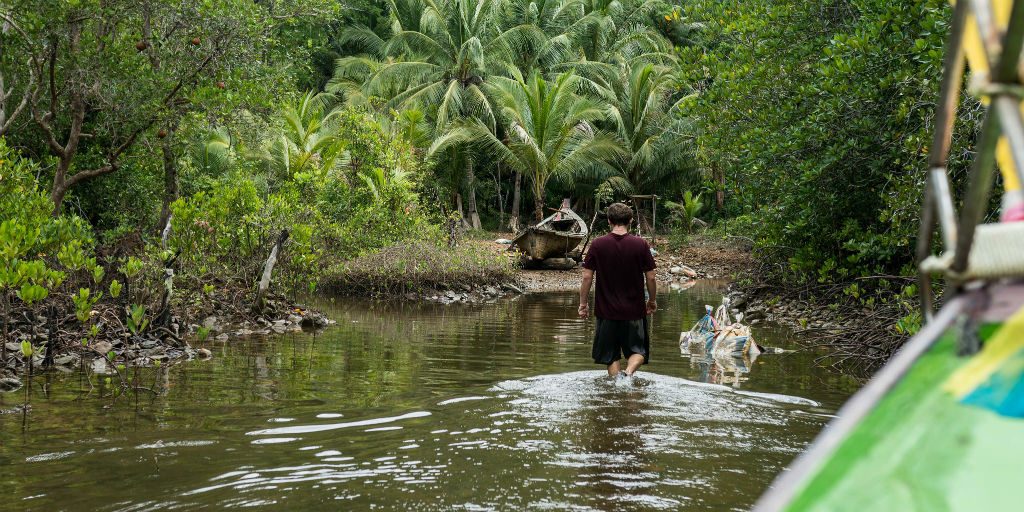 You only need one day to tour Phang Nga Bay. This is ample time to cruise around the bay, with stops for kayaking, swimming, snorkelling, and enjoying a picnic lunch on the beach. 
Most tours focus on islands and other areas of interest found within the Ao Phang Nga National Park. As a protected area, there are very few people living within the park. You're bound to see other tourists during your trip, but with a bit of luck, you will still be able to enjoy tranquil moments surrounded by the lush bounty of the park. 
Ao Phang Nga National Park is home to the largest remaining primary mangrove forests in the whole country, crisscrossed with tidal channels. Vertical cliffs shelter aqua bays sprinkled with dozens of islands.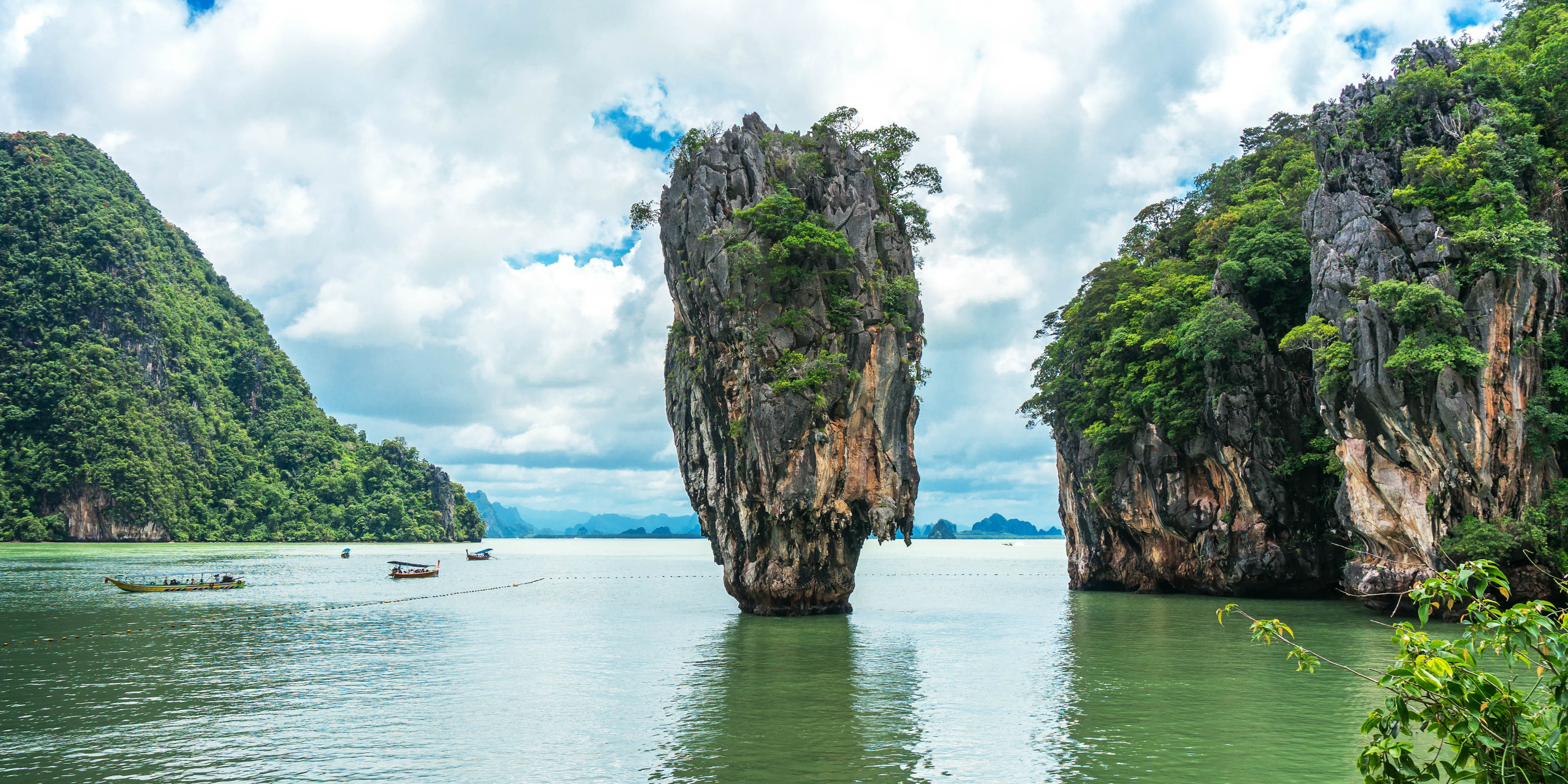 This is where you'll find the classic karst scenery that featured in the James Bond film "The Man With the Golden Gun".  Phang Nga tours usually stop by Ko Phing Kan, popularly known as James Bond Island. 
You might recognise the distinctive rock pillar of Ko Ta Pu, one of the most famous natural landmarks in the bay. This rock juts straight up out of the calm waters of a bay tucked into the larger island.
Boat tours around this marine park will typically also give you the chance to explore "hongs", or interior chambers of the limestone islands. 
You can access the hongs by paddling kayaks through caves, which open into the doughnut-like centres of the islands. Inside are hidden ecosystems with monkeys, butterflies, birds, and crabs. 
Access to smaller hongs depends on the tides, and entrances can open or close quickly. 
Near Phang Nga bay
Phang Nga Bay might be the star of the show, but there is plenty more to experience in the wider Phang Nga province. 
If you plan on staying around the Phang Nga area for longer than one day, you can choose to explore the beaches near Khao Lak, delve into the rainforests of Khao Sok National Park, or spend time volunteering with GVI. 
Our GVI base is located in the small fishing village of Ban Nam Khem, about half an hour away from the town of Khao Lak. From this base, you can easily access Phang Nga Bay through day trips and tours, as well as other national parks and areas of interest nearby.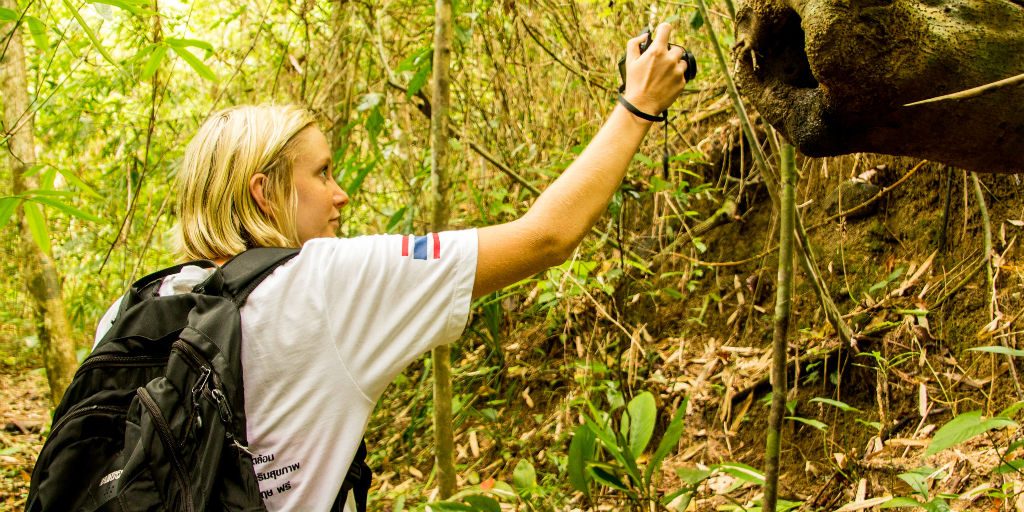 Choosing to experience a GVI volunteer program will enrich your Thailand travels. Away from the typical tourist hot spots, volunteering with GVI is also an opportunity to get to know a local community, while contributing to the preservation of precious coastal habitats and wildlife. 
Volunteer in Thailand with GVI to experience adventure and sustainable travel in Phang Nga. Browse our range of ethical projects today.