Original image: "Mandela statue, Union Buildings, Pretoria" by Gray Moon Gallery is licensed under CC PDM 1.0
The images in this article were taken pre-COVID-19.
Mandela Day is celebrated on 18 July every year in honour of Nelson Mandela, a world-renowned South African leader who dedicated his life to making an impact. 
As the first democratically elected president of South Africa and a stalwart in the South African and Pan-African fight for freedom, Nelson Mandela added to a more equitable world in meaningful ways. 
His contributions have been extensively documented, and his journey offers an abundance of opportunity for us all to learn about commitment and how tenacity leads to impactful actions. 
In this way, Mandela's legacy and Nelson Mandela Day itself, continues to build on global equity as well as sustainable development in Africa today. 
Let's learn more by taking a closer look at the history of Mandela Day and how you can make a contribution this year.
Original image: "Nelson Mandela Day 2013 at Columbus Circle" by john.gillespie is licensed under CC BY-SA 2.0
What's the focus of Mandela Day?

Mandela Day was first introduced in South Africa, by former President Jacob Zuma, on Nelson Mandela's ninety-first birthday. 
The country established its own celebrations that included schoolchildren across South Africa singing happy birthday to Mandela, and the call for every South African to dedicate 67 minutes of their time to a meaningful cause within their own communities.
Why 67 minutes? Well, this number signifies the 67 years that Nelson Mandela committed to fighting for freedom and social justice in South Africa (more than 27 of which he spent imprisoned for the cause). 
This acts as a stark reminder that we can all contribute some of our own time to add to the success of the areas we live in.
With sustainable development in Africa having faced significant challenges over the years, Mandela Day efforts offered inspiration for African nations and added to community development projects in South Africa in meaningful ways. 
And, the success and importance of Mandela Day stood out across the world too, with the UN recommending that Mandela Day become an international affair. By November of 2009, the UN adopted a resolution to make Mandela Day an international day.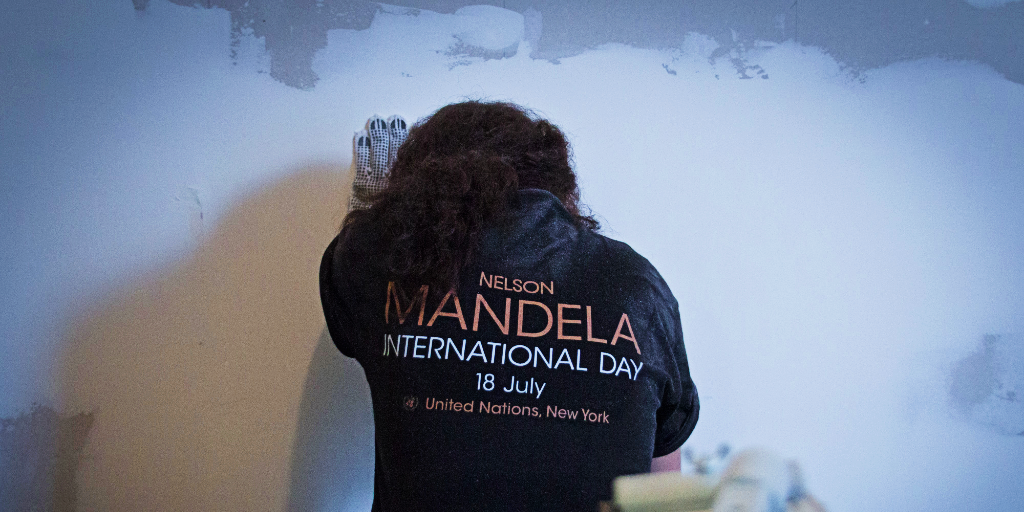 Original image: "Nelson Mandela Day: Rebuilding homes in Long Beach" by john.gillespie is licensed under CC BY-SA 2.0
Since the work centred around Mandela Day was well aligned with the UN's Millennium Development Goals, these activities were easily promoted across the globe. 
And, adding to Nelson Mandela Day efforts was acknowledged as a meaningful way to build on achieving the UN Sustainable Development Goals that came into action in 2016. 
This move allowed the global community to be part of celebrating Nelson Mandela's humanitarian efforts. It also meant that more people became part of driving the momentum of Mandela Day and its contribution to achieving global goals of sustainable development. 
Which sustainable development goals are highlighted by Mandela Day?
With its origins in the Southern tip of Africa, Mandela Day activities are generally based on the challenges faced by the South African community as well as the broader community of sub-Saharan Africa. 
One of Mandela's most famous quotes speaks to the essence of Nelson Mandela Day: "Poverty is not an accident. Like slavery and apartheid, it is man-made and can be removed by the actions of human beings. "
"Action against Poverty" is one of the overarching themes of Mandela Day, since poverty is one of the biggest factors affecting the well-being of South Africans today. For this reason, all of Mandela Day's objectives focus on addressing the causes and effects of poverty.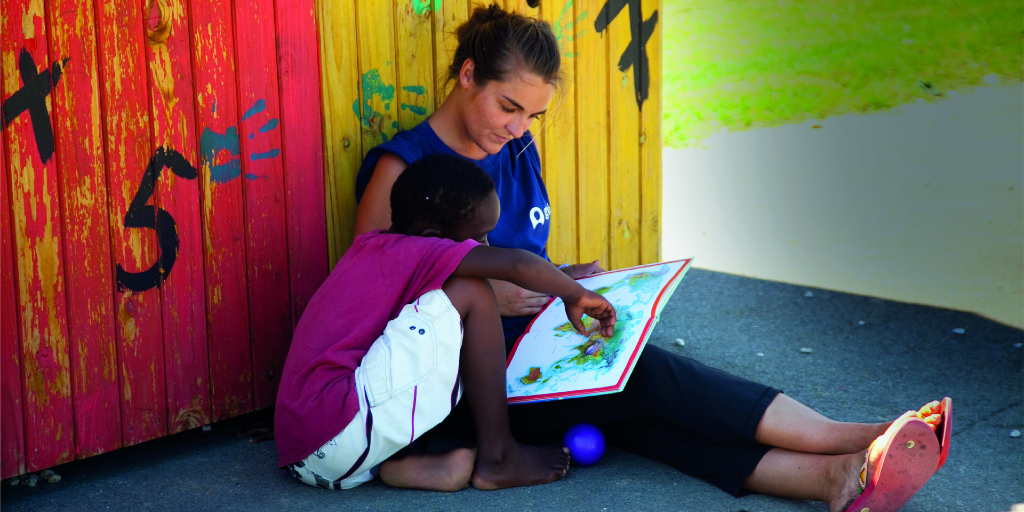 These are some of most important areas of sustainable development in Africa that are highlighted by Mandela day:
building on employment rates and income stability

addressing the effects of the climate crisis

supporting family structures

addressing high crime rates

adding to access to quality education

promoting sustainable business practices.
Further reading: GVI Cape Town staff: Why work in sustainable development?
While these activities build on all of the sustainable development goals in some way, they have the following goals of sustainable development at their core:
Nelson Mandela Day's contribution to sustainable development in Africa and abroad aims to address global challenges while implementing the values that Mandela endeavoured to embody: fighting injustice, working for equality for all people, assisting people in need and practising reconciliation.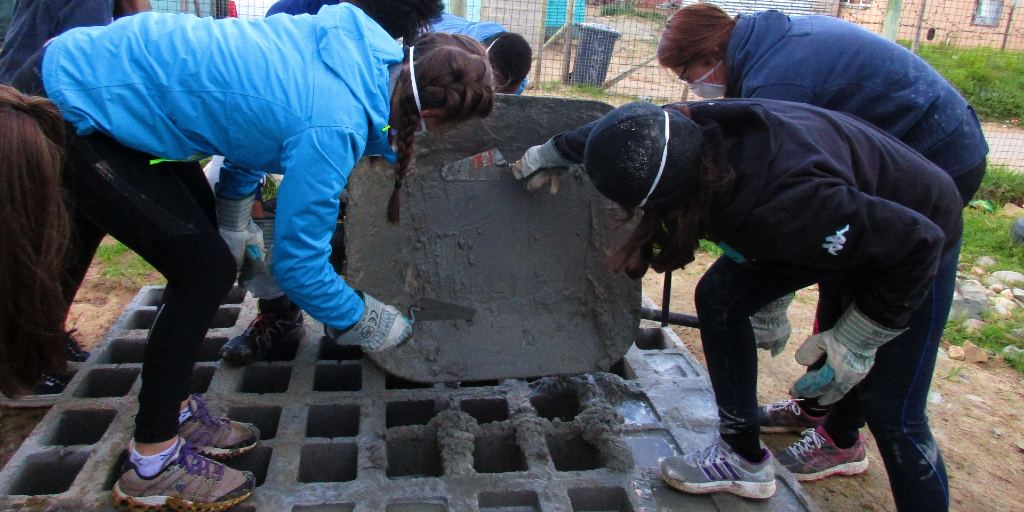 Many volunteer and charity organisations align their sustainable development projects with Mandela Day on 18 July. In addition to this, many of these organisations aim to add to the global goals of sustainable development throughout the year. 
This means that there are many opportunities for you to get involved in making an impact (for 67 minutes or more) on Mandela Day and for you to add to a meaningful impact all year round. 
Read more about what sustainable development volunteer work means to South African communities in this article: Q and As with South African community members: community and volunteering.
So, what are the best ways for you to get involved in sustainable community development on Nelson Mandela Day and beyond?
The best sustainable development projects that add to the impact of Nelson Mandela Day
Cape Town, South Africa is much more than just a seaside getaway for those in need of a vacation. 
This sub-Saharan city is also a hub for sustainable development in Africa and offers a wide array of community development projects for those looking to volunteer or intern abroad. 
Under-18 community development projects in Cape Town
Being under the age of 18 doesn't mean you need to reign in your optimism and only contribute to Mandela Day efforts at home.
Take part in GVI's Cape Town Adventure and Cultural Immersion Teen Volunteer program and you'll get to learn more about South Africa from local people while getting involved in meaningful work that adds to achieving global goals of sustainable development.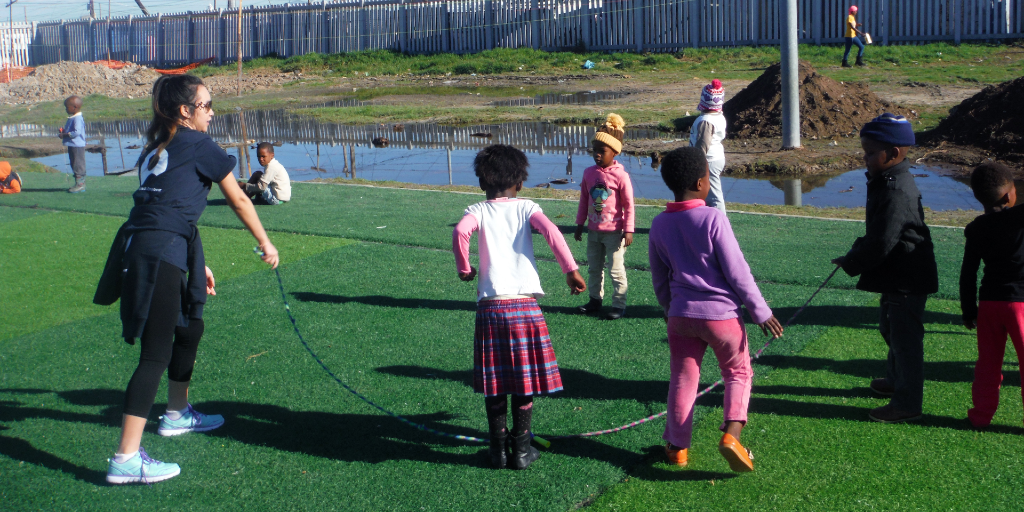 You'll work with children in the communities where they live and add to their educational, physical and social development by engaging with them in sports and drama sessions. 
You'll also have the opportunity to immerse yourself in Capetonian culture by taking part in activities like language lessons, going whale watching and visiting some of Cape Town's most sought-after cultural sites – like the Bo Kaap district, the V&A Waterfront and the Iziko South African Museum. 
Sustainable development work with children in Cape Town
Mandela Day's objectives include adding to the education of African communities. And this is particularly important when it comes to children. 
In fact, Mandela himself said: "Educating all of our children must be one of our most urgent priorities. We all know that education, more than anything else, improves our chances of building better lives."
Through sustainable development projects focused on teaching, you can be part of adding to children's literacy, numeracy and English language skills while also building on their confidence. These community development projects look to provide one-on-one attention to children in under-resourced communities. 
You can also volunteer and offer support to early childhood development programs. Your engagement with students will add to UN SDG 4: Quality Education by starting children off on solid ground at the beginning of their schooling careers.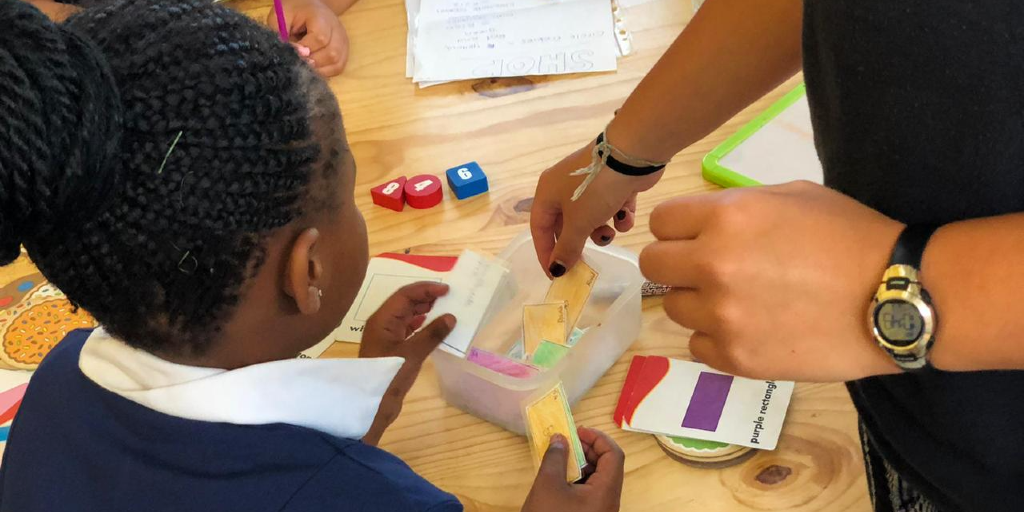 In this way, you'll contribute to lightening the load for teachers and staff, and growing the potential of some of South Africa's most vulnerable citizens. 
And, if you're looking to take part in sustainable development in Africa with children and add to your professional development, why not sign up for a teaching internship? This opportunity will allow you to gain qualifications and a professional recommendation while growing your experience in work aimed at achieving sustainable community development. 
Further reading: How does quality education factor into sustainable development?
Any of these opportunities make it easier for you to grow your impact this Mandela Day. 
You could plan a 67-minute session with your students focused on recycling, healthy eating or hygiene practices and build on their ability to add to their health and well-being, as well as that of their community and their environment. 
Or, why not join the Nelson Mandela Day activities organised by local people, and add to your cultural immersion experience while contributing to sustainable community development that's specific to the Capetonian context? 
Cape Town community development projects in women's empowerment
"Freedom cannot be achieved unless the women are emancipated from all forms of oppression." – Nelson Mandela
Much of Mandela's work was focused on achieving freedom from oppression through women's anti-oppression work.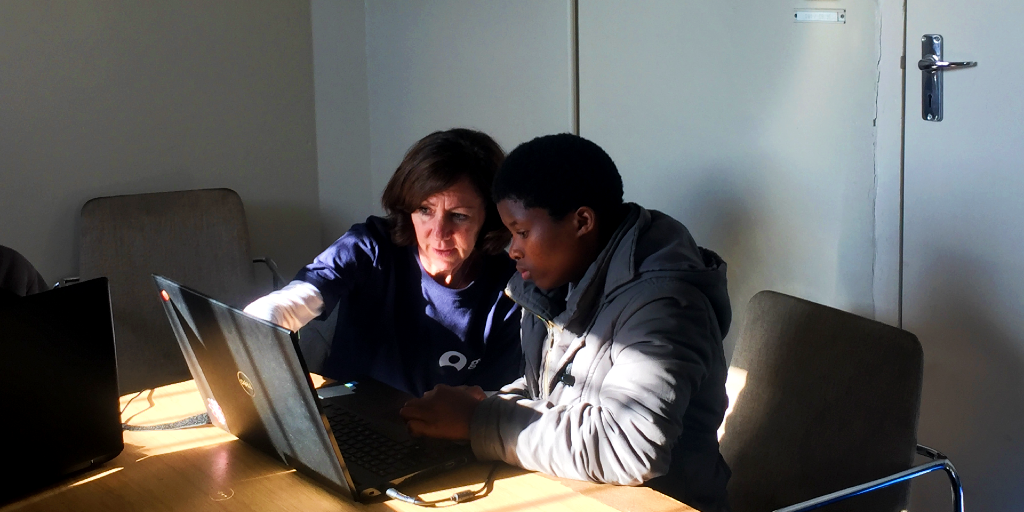 This sentiment is echoed in UN SDG 5: Gender Equality, and many sustainable development projects in Africa are aimed at women's empowerment.
This type of sustainable community development prioritises women's education, health, social standing and financial independence. And you can add to its success in Cape Town.
In the Gordon's Bay community, volunteers and interns on our women's empowerment community development projects work closely with our partner organisations like the University of Cape Town.
While building on local women's computer and business skills and health knowledge, you'll get to learn first-hand about their lived experiences and the challenges they face in their communities.
In this way, another core aim of Mandela Day is achieved: spreading awareness about the challenges faced by African communities. 
Public health sustainable development projects in Cape Town
"Health cannot be a question of income; it is a fundamental right." – Nelson Mandela
In communities where resources are limited, unemployment rates are high and there are barriers to securing basic needs like food and shelter, health and well-being can sometimes take a back seat.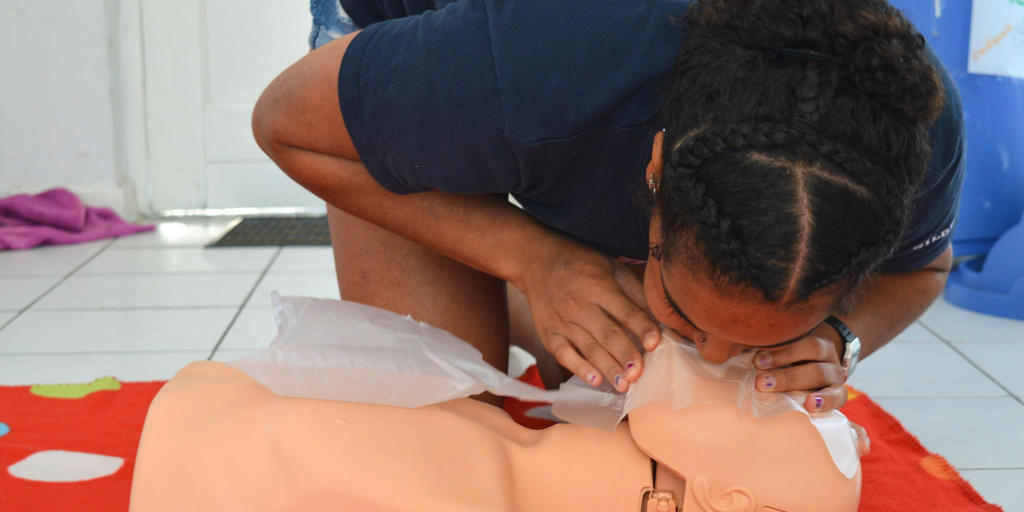 If we hope to achieve the UN SDGs by 2030, then assisting the most vulnerable communities to build on their health and well-being must be prioritised. 
GVI partners with the local community and public health organisations in Cape Town to make sports activities, public health workshops and reproductive health education available to underserved communities.
Add to sports sessions with school children as an intern or volunteer and help students understand the importance of exercise and physical health.
Or, take the opportunity to facilitate preventative health workshops aimed at adults and children in the local community, and add to spaces where local people can take charge of their own health and well-being. 
Whichever community development project you decide to dive into in Cape Town, you'll be adding to sustainable development in Africa and building on the success of Nelson Mandela Day this year and into the future. 
Browse our website for more details on our sustainable community development volunteer and internship programs in Cape Town and get ready to make a global contribution this Mandela Day.