In July 2018 I resigned from my job as nurse specialist and manager for a hospice in Bristol, England. I was ready for a change and to take either a career break or retirement. I needed to do something completely different for a few weeks to help me consider my options for the future. I found GVI on Google searching of volunteer programmes and was instantly attracted to the beauty and remoteness of Luang Prabang and the concept of the women's empowerment programme. I quickly applied and am now completing my 4th and final week as a volunteer with GVI in Luang Prabang!
Being part of this programme has been a huge cultural experience which has been both enriching and challenging! I was prepared to embrace the differences, such as, working in 33C without air con, very basic accommodation and limited teaching resources and facilities. For me personally the biggest challenge has been living with volunteers who are 40 years younger than me! I fell asleep in Utopia, the local bar, which didn't do much for my image! Everyone is very friendly which has been great.
I have been teaching on 4 different programmes which are all very worthwhile as they are sustainable involving the community, and provide education to students where local opportunities are lacking. GVI provide training and support which has prepared me for the teaching and even to say a few words in Laos!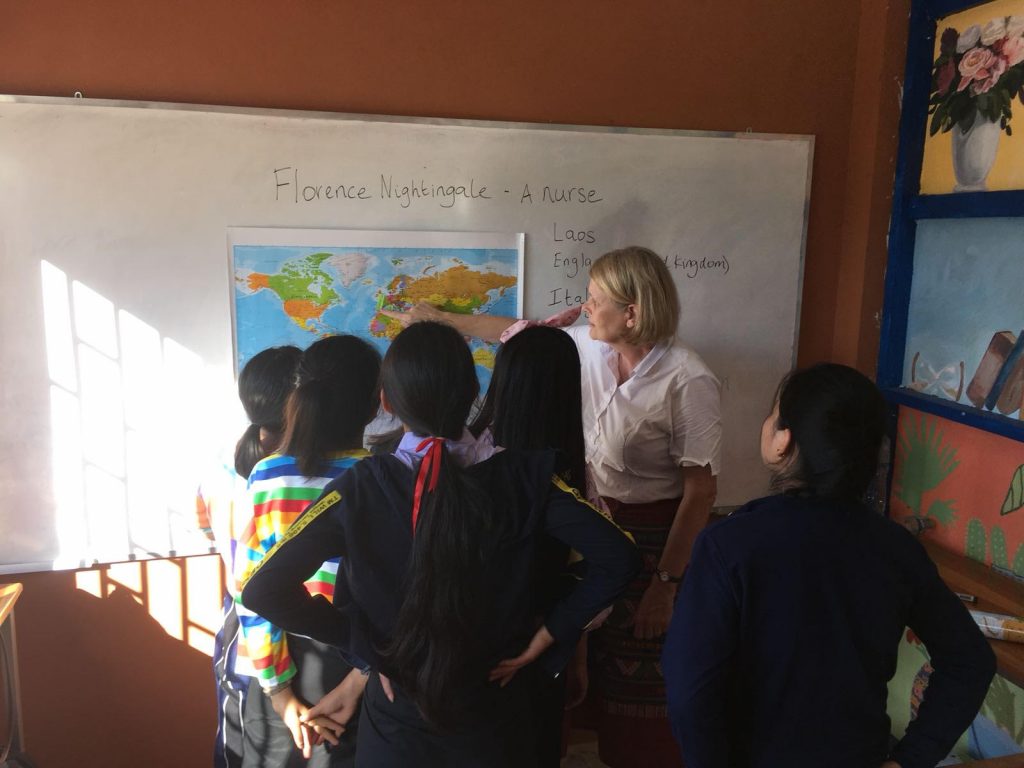 I have been running a careers workshop for the women's empowerment group which has been good fun. The students have engaged with the tasks set and have participated in the learning activities and games with enthusiasm. It is rewarding to see them grow in confidence, learn English and have fun! They give a lot of positive feedback which is reinforcing!
I am also teaching English to a group of staff from Saffron cafe as part of a local community partnership project whereby the manager is keen to recruit and develop Laos staff which is great. We have had fun with role play and learning the menu!
I have also been working with Khamsaeng, a young Laos man, to prepare him to support an on-going menstrual health programme in rural communities. Many of these women have limited understanding about women's health and do not have access to feminine hygiene or event pants! I have taken Khamsaeng through the on-line course and he has now passed the exam to be an ambassador for the 'Days for Girls' programme!
I had an amazing opportunity and travelled to a local village to support a first aid programme for local teachers. Two of the Laos women gave me a guided tour of the village showing me rice paddy fields, rivers, temples, bamboo being prepared, beautiful countryside etc.! We had street food for dinner and locally grown fruits for break time which all added to the experience of living in Laos.
It hasn't been all work and I have done some touristy things! The highlights have been a boat trip on the Mekong to Pak Ou caves, visiting the botanical gardens, a cooking class at Bamboo Tree restaurant with a trip to the food market, and visiting temples, museums and the night market in Luang Prabang. Fresh mango and coconut pancakes are a must! There are lots of restaurants and I have enjoyed Dyen Sabai, saffron cafe, phonheuang cafe etc. etc. I am finishing my stay with a trip to the Kwang Si waterfalls and a relaxing stay at hillside lodge. If I had more time I would have booked a 2 night stay in Nong Khiow.
On my first weekend the team accompanied us 'chanting and meditating' at a local temple. It was the first time I had worn my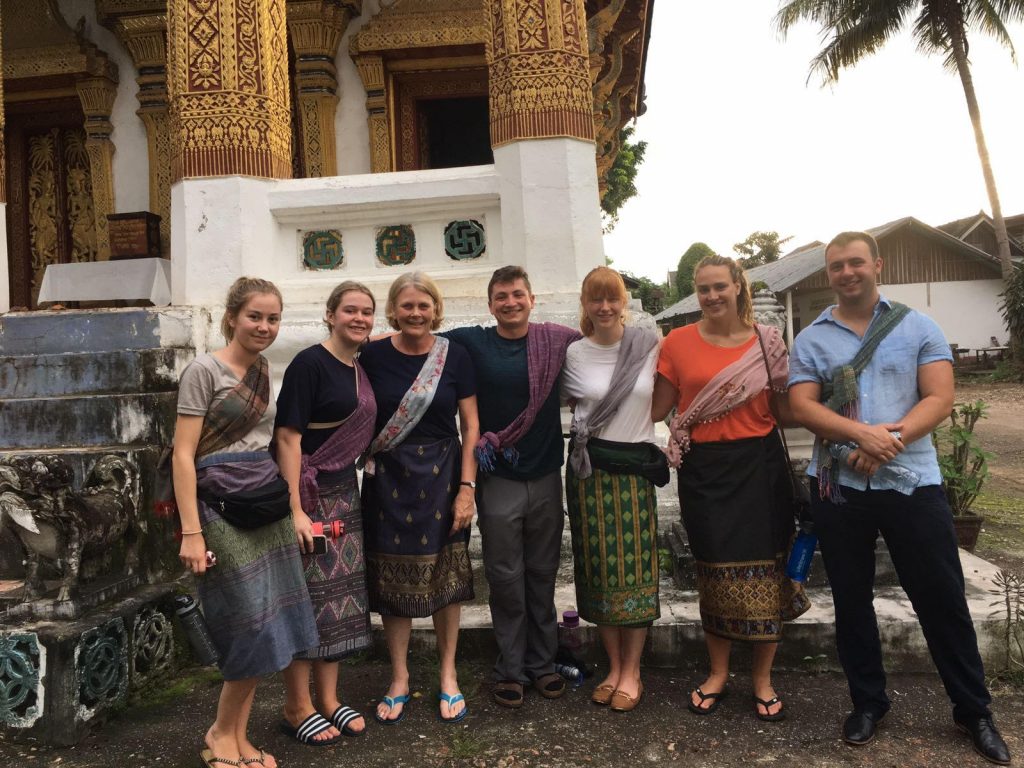 sinh 'Laos skirt' with the requisite scarf over the left shoulder. This experience isn't for the faint-hearted as you have to kneel on a hard floor and I lasted 45 minutes! We have also been alms giving at 05:30 which was another amazing experience! As teachers it feels good to have experiences as part of the local community rather than as a tourist.
Overall I have had an amazing experience that I would highly recommend! I have loved being part of the Laos community and working on projects for GVI that actually make a difference. I now have a clearer head for my future, so the volunteering has achieved its aim for me!