We are absolutely delighted to bring you the news that the rumours of Kah Moon's pregnancy were recently proved true, as she has given birth to a healthy female calf! We began to suspect this to be the case around March of this year, as it can be difficult to tell whether an elephant is pregnant just by looking at them. Not until late into their long gestation period (18-22 months) does it become apparent. We remained hopeful, but it was not until one night in late May when these hopes became reality. When news reached us, there was a huge buzz of excitement among the staff team at GVI Chiang Mai; we could not wait to see mum and baby!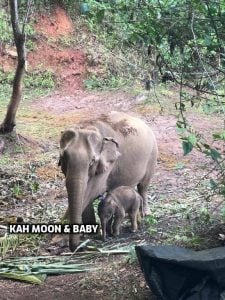 A few days later, the news was broken to the volunteers, and that buzz became palpable. Of course, everyone was very eager to see the newborn, but everyone was mindful of giving mum and daughter the chance to bond. Only small groups were allowed to see them at first and they only stayed for a brief period of time. As the weeks have passed, Kah Moon and the calf have ventured deeper into the forest and have been rejoined by Kah Moon's mother, Khum Suk, and Kah Moon's best friend, Sah Jah.
We have now resumed study of Kah Moon's behaviour, and are very intrigued to record how she behaves differently with a baby elephant to care for. The calf is now over a month old and has been spending her first few weeks of life in the forest with mum, just as she would be in the wild. She found her feet very quickly and has already started showing the same curious nature as her older sister, Lulu. Experienced mother, Kah Moon, of course, keeps a watchful eye, ensuring her newborn never ventures too far. The mahouts spent day and night looking after mum and daughter for the first critical couple of weeks.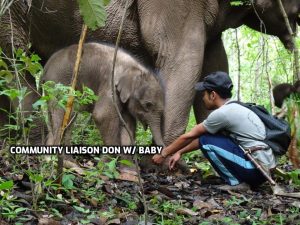 The newborn grows rapidly day-by-day and it has been amazing for our volunteers to have the opportunity to witness these early days in the life of an Asian Elephant. Her trunk is not yet fully developed, and she does not yet know how to use it. With time, mum will teach her how to use this incredibly useful tool! Baby still stumbles around, as she adapts to the hilly and rough terrain of the Thai mountains, but she is learning quickly. She has become much more adventurous, and now likes to try to run over to our volunteers to play; of course, we retreat to a safe distance so that we remain true to our policy – hands off, purely observational.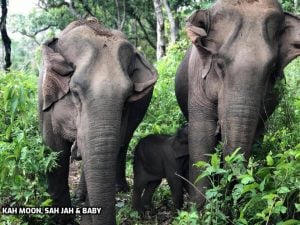 With this birth, Khum Suk has another grandchild and Lulu is now a big sister! Sah Jah is acting as doting aunt, caring for the newborn whenever Kah Moon needs a rest. While everyone, mahouts and volunteers, are very excited, we do remain cautious that at such a young age anything can go wrong. Therefore, we have kept our distance and allowed Kah Moon the time and space to bond with her new daughter. While the baby does not yet have a name, we have all grown very attached to her already!