6 Reasons Why You'll Fall in Love with Cambodia's People
People always ask me what my favourite part of Cambodia is. Is it the food? The people? The climate? The rich culture? Temples and pagodas? I know, I know – it's the monkeys!? My answer is always the same – plain and simple – the people, of course! (Although everything is amazing – you can't beat some local Khmer street food!)
I promise I'm not biased, but this little slice of paradise is home to the most wonderful people. With their infectious smiles, unheard of generosity and a warmness that feeds your soul, Cambodian's are the ultimate dream to share your volunteering adventure with. 
They smile… a lot!
A smile is never far away in Cambodia. From the moment you arrive until your last goodbye, there will be so, so many grins. A day in the life of a GVI Cambodia volunteer will be filled with an endless number of excited smiles. From the moment you wake up, you are greeted with an enthusiastic "Good morning!" and a massive grin by, not one, but all of our amazing guesthouse staff. To a day filled with wonderfully happy classes of shouting, laughing, and of course, smiling children. To our young adults evening class, where they can't help but grin while they respectively stand and greet us with a bow and choreographed "Good afternoon teacher, how are you?" To the end of the day, when we visit one of our favourite dinner spots, no matter what, we will always be greeted by our friends with big smiles and a "hello GVI, how are you all!" The Cambodian smile is what makes first time visitors feel at home and our departing volunteers promise they will return as soon as they can.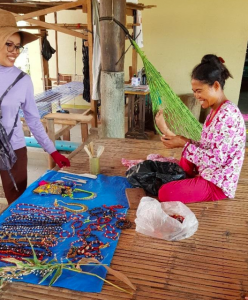 They are social 
Cambodian's are naturally very social – and friendly. In our guesthouse you will never eat alone. You'll actually never even sit alone! If you find yourself sitting in the restaurant area by yourself, it won't be long before a guesthouse staff member meanders over for a quick chat (or a long one!) When you're out and about, you'll find that the locals are just as friendly, whether it's inviting you to join them at their table, saying hello in the street or even sharing their snacks with you on the bus!
They are inquisitive 
Cambodian's are curious – very curious! But don't be put off, they love to learn and want to get to know you. Be ready to be bombarded with a whole lot of questions in your first few classes. The younger students will want to know all about where you are from and how many brothers and sisters you have. While the older students will want to know what you do for a living, your marital status and your way of life at home. Curiosity isn't only concealed to the classrooms though, get prepared to repeat all of this countless times over, as everyone at the guesthouse, and even people on the street, want to get to know you and your way of life at home.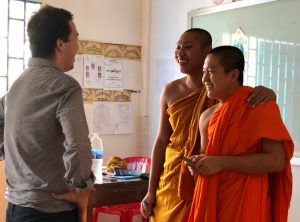 They are resilient 
All you have to do is take a look at their recent past to see the resilience that is innate in Cambodians. The most prominent example being the Khmer Rouge of 1975 to 1979. Led by Pol Pot the Khmer Rouge killed between 1.5 to 3 million Cambodians. It eliminated professionals, such as business leaders, doctors, lawyers, students, journalists and teachers. "They abolished money, free markets, normal schooling, private property, foreign clothing styles, religious practices, and traditional Khmer culture. Public schools, pagodas, mosques, churches, universities, shops and government buildings were shut or turned into prisons, stables, re-education camps and granaries. There was no public or private transportation, no private property, and no non-revolutionary entertainment." Although its recent history almost crippled the country, Cambodian's determination and strength has seen Cambodia rebuild itself at an extraordinary pace. 
They are proud of their homeland 
Cambodian's are proud people of their homeland. They share a common pride of their strong history, stretching back to the mighty Angkor Empire – the creators of Angkor Wat – and their rich culture, such as, apsara dancing, traditional arts and artisanal crafts. Pride in their country also means that they are often delighted to show it off. Whether you venture off on a weekend trip, or you simply ask a guesthouse staff member about their village, there are endless opportunities to experience the rich Cambodian history and culture.
They love to help 
If you're looking lost, struggling with a translation or you're in clear need of help, a Cambodian (or three) is never far away. Many volunteers are humbled by the kindness that is demonstrated by the Cambodian's they have the privilege to meet. Whether it's a student helping them to hold up flashcards when they won't stick on the board, to the guesthouse staff booking them bus tickets for their next weekend adventure. Even people on the street are happy to help, giving directions or sometimes even a ride. No matter how big or small the issue, there will always be someone willing to help. There are so many reasons why people fall in love with Cambodia, but I can guarantee the first reason is because of the incredible people!
Reference:


Al Jazeera. (04 February 2012). 

Key facts on the Khmer Rouge

. 
Retrieved from 

https://www.aljazeera.com/indepth/features/2012/02/20122314155454169.html