New volleys have arrived! with wonder in their eyes and new friends at their sides. A warm welcome was had at Jalova in the middle of Tortuguero National park, and we're not even talking about the temperature! We have just arrived, but we already feel like professional researchers. In the nearest tree at base, one of the new volunteers has already spotted a beautiful sloth. Unfortunately, it was only his imagination, as he was quick to realize it was a large brown swaying leaf.
After settling in in our new homes for some few days, the group eased up with some games before jumping into the main meat of the program. Training started swiftly, with identification surveys of the many animals living in the park. As interns and volunteers, we are briefed thoroughly on not only animal species, but also the history of the park and Costa Rica as a whole. However training is not only performed through presentations and speeches. By day one, volunteers are able to partake in staff run surveys out in the field, experiencing firsthand the valuable information given within week one's training. Be it a canoe ride through Tortuguero's many canals and streams, or a foliage filled walk through the park's beautiful rainforests. Do you know how to tell the difference between an amazon kingfisher and a green kingfisher? Boy howdy you sure will. Canoe surveys test a volunteer's ability to properly identify the study species that we at GVI focus on, as well as a number of other avian amigos that live along the canals. The study species are a vital indicator of the health of the national park and the volunteer's research directly impacts how the future conservation climate is run.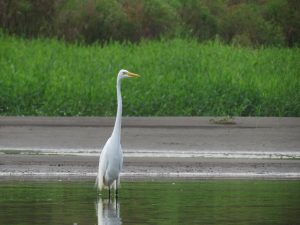 Forest walks are held in different trails along the park be it morning, day, or night. During each trail, we observe the different species in order to investigate their habitat, their behavior, and the number of species spotted. In this case, combined with the canal surveys, we can determine the status of the forests itself, through study of its vast biodiversity. Of course, Tortuguero is home to an abundant number of jaguars and sea turtles. Everyone at base is given proper and entertaining trainings about the surveying of these creatures. Beach walks to determine nesting habits of Costa Rica's sea turtles will happen frequently. In fact, only halfway through our first week, we had already witnessed two nests of leatherback turtles hatching. Look at that little fella go!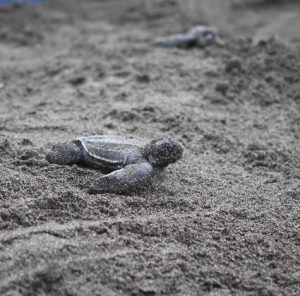 The jag walks can be quite taxing to new volleys, because of the arduous sand and hot sun. But never fear my friends! The staff will ensure that you are well prepared by leading you in a number of mini jag walks to get you used to the exercise. Your journey ends at the small and colorfully scenic Tortuguero village, where you and the other walkers may taste some mouthwatering pizza. Even a visit at the hairdresser is possible.
So there you have it ladies and gentlemen. That's a wrap on our training week in Jalova!