10 weekend destinations from Kampong Cham
After a busy week on project in Kampong Cham it can be nice to travel away for the weekend and visit some of the amazing places you can reach across Cambodia and further! Throughout my time here I have made sure I have seen as much as possible
Siem Reap and Angkor Wat
On my first weekend, we all travelled north to Siem Reap. This is home to the incredible Angkor Wat, the most famous site in Cambodia – and Trip Advisor's top rated destination in the world. Angkor Wat was declared as a World Heritage site by UNESCO in 1992 for its religious significance in Hinduism and Buddhism as well as its central importance to Cambodian and human history. If you're an early riser, then watching the sun rise over Angkor Wat is a beautiful experience that shouldn't be missed.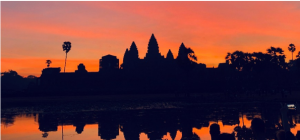 Siem Reap as a city has a very chilled vibe but definitely isn't short of anywhere to party. The infamous Pub Street provides plenty of bars and clubs to dance in and experience the Cambodian night life. There is also a wide range of restaurants which serve great Khmer dishes but Siem Reap also has a host of international establishments serving sushi, enchiladas, or if you're feeling adventurous – crocodile.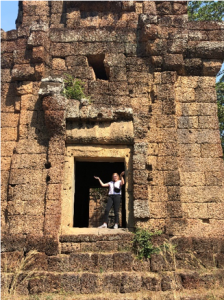 Phnom Penh
Phnom Penh is situated south of Kampong Cham and as the Cambodian capital, the city provides another great opportunity to explore the country's history and culture. The Royal Palace and Wat Phnom are must-see destinations to explore and understand Cambodian culture.
To anyone wishing to contextualise the Cambodian experience and understand the nation around them a visit to the Killing Fields and the Genocide Museum are essential. Hard hitting, it is important to mentally prepare yourself for visiting the sites but visiting these sights puts Cambodia's very recent history into perspective and allows you to come to terms with the impact that it has had on the people living here.
Kratie
As well as the two main cities there are many other towns which make for a great getaway. Kratie is a very laid-back town, around two hours north of Kampong Cham. Here you can visit some of the last surviving dolphins which live in the Mekong River.
As well as the dolphins, you can visit Kampi rapids. This is the ideal place to spend a lazy day, reading a book or napping in one of the many, many hammocks. Kampi rapids is a series of huts which are built over fast moving rapids. In each hut there are hammocks which you can laze around in for as long as you like. Again, this is a good place to socialise with locals and experienced the more laid back side of Cambodia.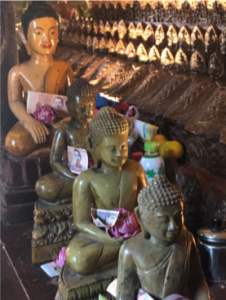 Kampot
My personal favourite weekend away was in Kampot. Kampot is situated in the mountainous landscape of Cambodia and is the ideal place to take part in more adventurous activities. Kayaking is a great opportunity to see Cambodia's country side from the water, and rock climbing is a fun, adrenaline-filled activity for those who like a good workout.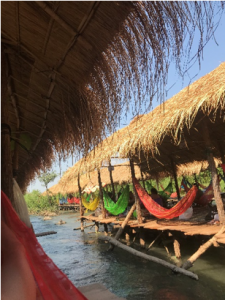 Koh Rong and Koh Rong Samloen
Koh Rong Samloen is a stunning tropical island in the South of Cambodia, about a half hour to an hour boat ride away from Sihanoukville. After many weekends in the busy cities of Phnom Penh and Siem Reap the islands are a surreal getaway from everyday life, surrounded by crystal clear water and dense jungle, it is a struggle to find yourself doing nothing. With many hammocks and hidden coves dotted around the island, it is also the perfect place to relax and spend the day floating in the ocean or reading. Though the nights end early, there is still plenty to see, such as joining numerous campfires and the breath taking bioluminescent plankton! Make sure to visit during a long weekend, however, as it can be a long journey and once you are on the island you may never want to leave!
Ho Chi Minh City – Vietnam
For Kampong Cham's most adventurous volunteers' you can explore the neighbouring country of Vietnam and its bustling city of Ho Chi Minh. Feeling much like a European capital but with the hustle and bustle that comes with South East Asia, the temples are stunning, the buildings are beautiful and the option for Pho at every corner makes this city an incredible weekend trip.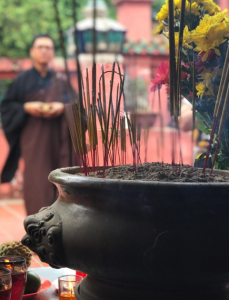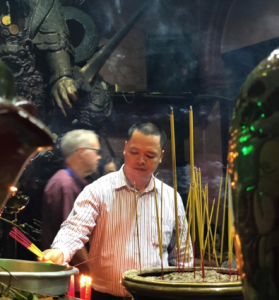 The Bamboo Bridge and Koh Pen Island
Of course, you may also choose to stay on base and spend your weekend in wonderful Kampong Cham. Travelling over the Mekong river via the bamboo bridge to laze around on the beach of Koh Pen islands makes for a very relaxing afternoon. You may also wish to cycle further afield and visit the sun flower fields or neighbouring villages.
I hope for anyone looking at Kampong Cham this blog has been of help!